SATURDAY, SEPTEMBER 21, 2019 | #CleanWaterFest and Open House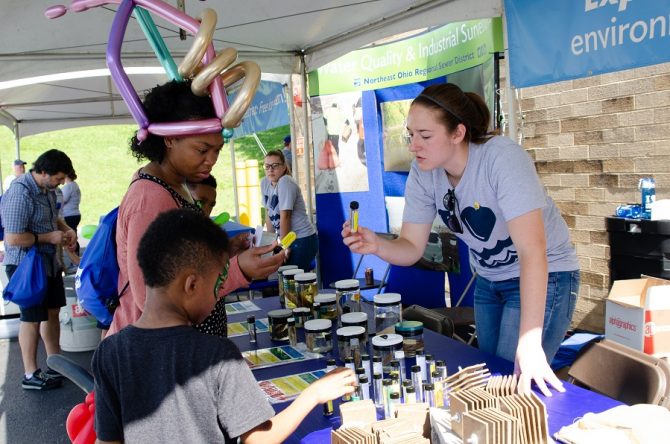 Be a part of our 2019 open house as we celebrate the Cuyahoga River's 50-year comeback story and the clean-water work that made it possible.
---
Literally thousands of guests show up on a fall Saturday every year to learn more about where their water goes and what they can do to keep our Great Lake great. This year's theme celebrates note only our lake's greatness, but the rebirth of our once-burning Cuyahoga River as well.
Our 2019 Clean Water Fest and open house is Saturday, September 21 in Cuyahoga Heights, a celebration of community and all things water as we open the doors of our Southerly treatment plant and our laboratory facilities for a day of education and entertainment.
It's not too early to mark your calendars. From 9:00 a.m. until 4:00 p.m., guests can visit more than 60 exhibitor booths, meet our employees and local partners, tour our award-winning wastewater treatment plant and lab, sit in our trucks and operate our equipment, see live entertainment and so much more.
Things to know before you go:
Bike tours available! We have limited spaces on 3 bike tours of our Southerly treatment plant and several sites along the 5.5-mile round trip during our Clean Water Fest event. Details.
Safety matters: We require safe footwear if you plan to attend a tour. This is typically closed-toe flat-sole shoes. Our treatment plant is a working facility, and if you are wearing flip flops, sandals, high-heels, or other shoes deemed unsafe for the treatment plant's conditions, you will be unable to tour.
Road construction notes: Due to construction along Canal Road in Cuyahoga Heights, parking will be located at Integrity Energy, 5711 Grant Avenue, and we will shuttle guests to and from our Clean Water Fest event location down the street.