Request a Tour or Speaker
The Northeast Ohio Regional Sewer District provides opportunities for group tours at the wastewater treatment plants for an overview of the treatment process and at the Environmental & Maintenance Services Center (EMSC) for a laboratory overview. We also have employees available for speaking engagements and presentations about our work, clean water, and the environment.
Guest Speaker
Speakers Bureau overview: How can a Sewer District presenter help you or your group?
Please complete the form below completely and thoroughly. Doing so will help us to evaluate the opportunity. The speaking engagement will not be confirmed until this form is received by the Sewer District and confirmation has been affirmed by the host group.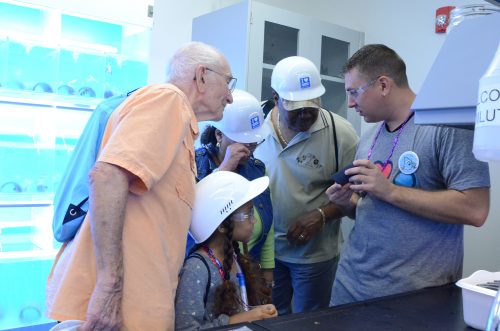 Plant or Lab Tour
Plant tours last between 1 and 1.5 hours. Since our plant tours include outdoor walking and demonstrations, they are seasonal and weather-dependent. Plant tours are currently closed for the season. We will reopen our tours April 1.  Plant tour protocol / Laboratory tour protocol
Please note that upgrades and construction at our Southerly plant in Cuyahoga Heights and Easterly plant in Cleveland are impacting our tour schedules. Our Westerly plant in Cleveland near Edgewater State Park will do its best to accommodate requests as they are processed, and we appreciate your patience.
To make arrangement for a group tour, or to obtain additional information, please fill out the form below and submit to us. Please indicate your affiliation, address, and number attending the tour.