CSO Alerts: Map and status of outfalls
The purpose of the Northeast Ohio Regional Sewer District Combined Sewer Overflow Public Notification System is to alert the public of possible Combined Sewer Overflows or water quality impacts from combined sewer overflows.
About The Map and Monitoring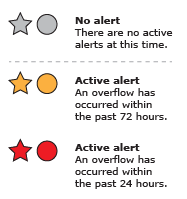 The Northeast Ohio Regional Sewer District maintains an extensive flow monitoring network. Monitors record data throughout the combined sewer system at various overflow structures and outfalls. Currently, the Northeast Ohio Regional Sewer District operates and maintains monitoring equipment at, or near, 21 of the 122 CSOs throughout the service area. The 21 monitored sites are marked with stars. Unmonitored sites are marked with circles.
This public notification system is based on analysis of monitoring data which is used to report combined sewer overflows during a wet weather event at these 21 CSO sites. This public notification system also provides overflow notification during dry weather at all 122 CSOs throughout the service area.
Information on this site is updated routinely. If an outfall reports that no overflow is occurring, but it is raining, there is still a potential that an overflow is occurring.
The CSO information for unmonitored outfalls is estimated based on conservatively modeled storm events.
Overview: Combined Sewers and Water Quality
Combined sewers carry sewage and stormwater in the same pipe, a design dating back to the end of the 19th century upon which many cities like Cleveland still rely on today. During dry weather, the combined sewer system has the capacity to transport all the flows entering the system for treatment. However, when flow in the sewer increases as a result of heavy rainfall and/or snow melt and system capacity is reached, the sewer system allows stormwater and sewage to discharge to a water body by means of combined sewer outfalls (CSOs) to prevent and protect neighborhoods and treatment facilities from flooding.
When a CSO is overflowing, public health officials advise against recreational contact with water bodies for at least two days (48 hours) after a rain event. Viewing this website before potential water contact is highly recommended.
Staying Informed