What is a watershed?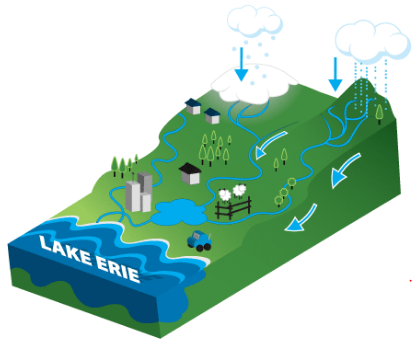 How water flows across a region's surface affects many aspects of the landscape.
A watershed is the area of land that drains into a body of water. The largest watershed in Northeast Ohio is Lake Erie. Below is a simple illustration of a typical watershed.
Protecting the Lake Erie watershed and the more than two dozen smaller watersheds that drain into the lake is important to the environment, public health, and the economic well-being of Greater Cleveland. When stormwater runoff is not managed properly, the result is flooded streets and properties, land erosion, and overrun sewers. All of these occurrences deposit pollutants into area streams and rivers, and the lake.
Where's your watershed? Watershed locations map: Five major watersheds of Northeast Ohio.