BENEFITS: Sustainability program offers free RTA bus passes to employees to save money, curb pollution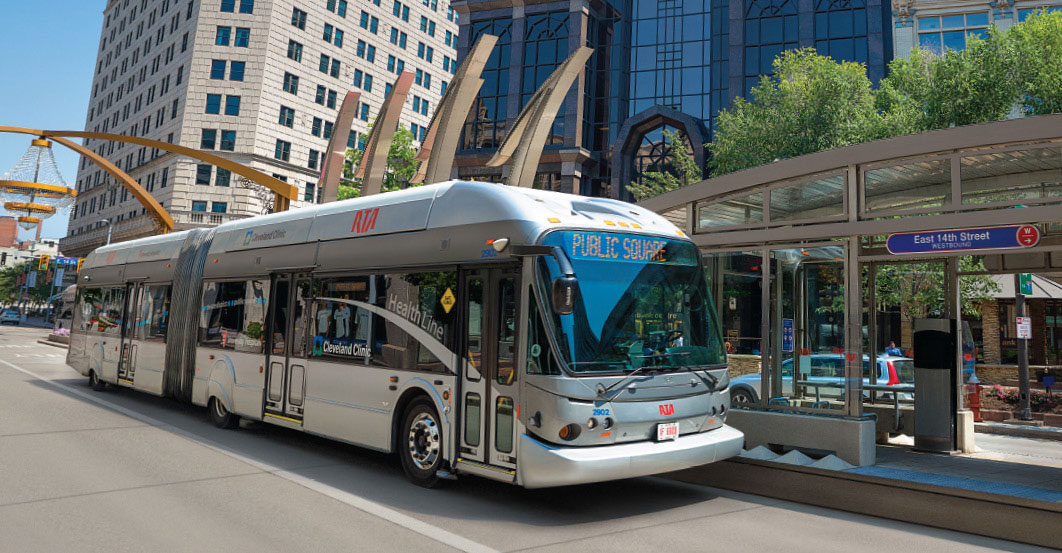 Why park and spend when you could swipe and ride? New effort offers smart alternative for employees headed to meetings along the RTA HealthLine
---
As an alternative to driving and parking for meetings downtown, in University Circle, or along Euclid Avenue, District employees can pick up a complementary all-day RTA bus pass from our GJM Building Security desk and use the HealthLine for free. The purpose of this pilot program is to reduce cost to the District, improve convenience for employees, reduce our environmental footprint, and take advantage of the RTA stations just outside our doors.
The HealthLine is easy to ride:
Plan your trip: Use RTA's mobile app or RideRTA.com to plan your trip and see real-time details about the bus locations and arrival times. The HealthLine is scheduled to run every eight minutes during the work day.
Get a pass: Sign out an all-day pass from the Security desk.
Head in the right direction: Headed westbound or downtown? Use the station right in front of the GJM Building. Headed to University Circle or eastbound? Use the station just east of the E.40th/Euclid intersection.
Ride and return: Board the bus and swipe your fare card to activate it. Enjoy the ride to your destination, and as you approach your stop, press the yellow bar near your seat to indicate to the driver that your stop is approaching. Don't forget to swipe your fare card on the return trip, too.
The program is not limited to the HealthLine, and employees can also use other bus routes near GJM to travel for District business. Have questions or need help planning your trip? Contact our Sustainability Program Manager Marie Fechik-Kirk.