Upper Ridgewood Basin Improvements Project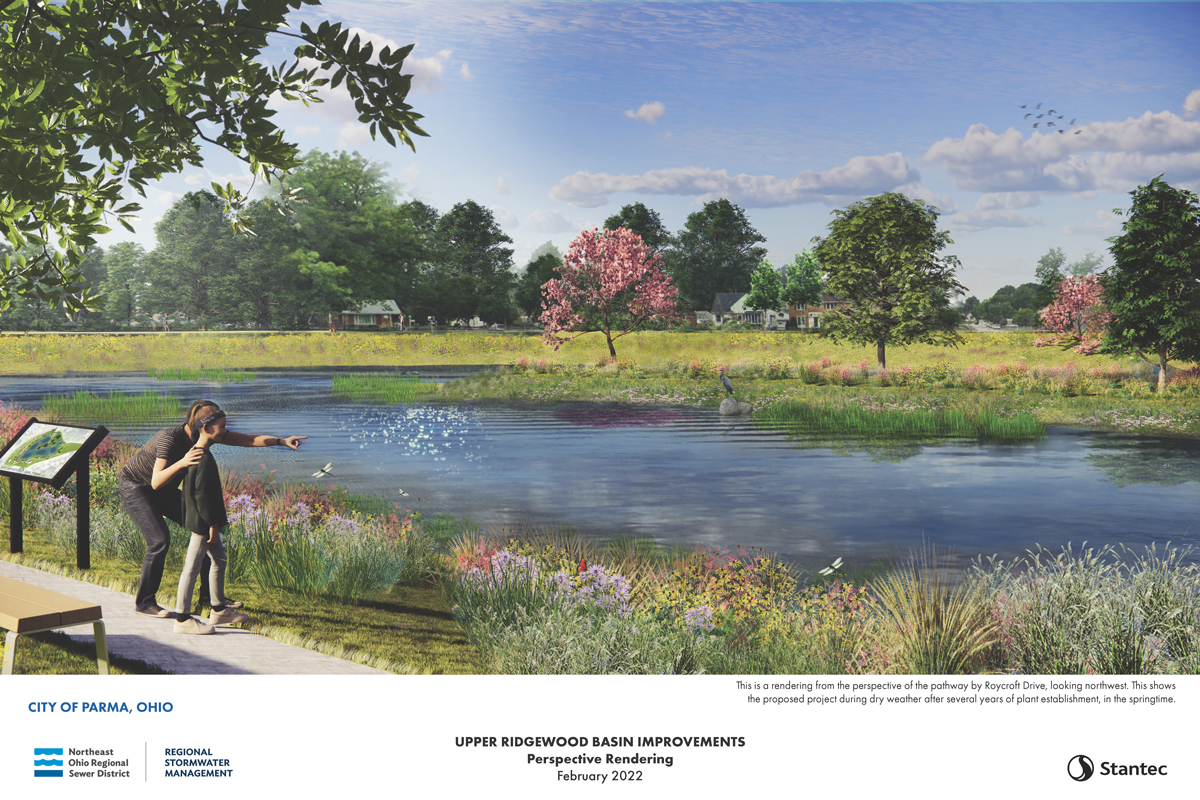 Update on project timeline: Construction began in November 2022. Dredging has been weather dependent and will continue through April.
After dredging is complete, demolition of all the concrete, sidewalks, and spillway will begin. A new outlet structure will be built near where the current spillway is located. Over the summer, the basin will begin to take its new shape. Between August and October 2023, the basin will be seeded, mulched, and well planted. We anticipate project completion by the end of November 2023.
---
The Northeast Ohio Regional Sewer District's Regional Stormwater Management Program addresses water quality, flooding, and erosion issues throughout our service area, which includes the City of Parma. As part of the program, the Sewer District is designing a project to reduce flooding in the neighborhoods downstream of Upper Ridgewood Basin.
Upper Ridgewood basin was formed about a century ago when the decision was made to restrict the flow of Big Creek and create a recreational pond. Since then, development has increased hard surfaces and stormwater runoff, leading to significant flooding. In recent years, rainfall patterns have intensified, exacerbating flooding problems as well.
At the completion of the project, residents can expect to see the following enhancements:
During rainstorms, the basin will fill with water and slowly release it.

Additional trees and robust native plants which will provide color around the basin throughout the year.
Structures to remove sediment and regular maintenance of the basin, including sediment removal. Currently, 75% of the basin is filled with sediment; there is about 6 feet of sediment at the bottom, affecting storage capacity of the basin with no existing mechanism to remove it.
Maintaining the current level water (about about 18 inches in depth) in the basin but lowering it to the bottom of the basin with permanent pools.  This means that there will be significantly more space to hold stormwater.
Reduction of flooding by 40% in the neighborhood based on our latest engineering models. Currently, about 150 houses, garages and other structures are flooded during heavy rain events.
An ADA-accessible path will wrap around the basin from Ridgewood Lakes Drive, south to the splashpad and east to the gazebo.
Construction cost is estimated to be $3.4 million.
Concept and rendering
Posted February 10, 2022 / Updated February 22, 2022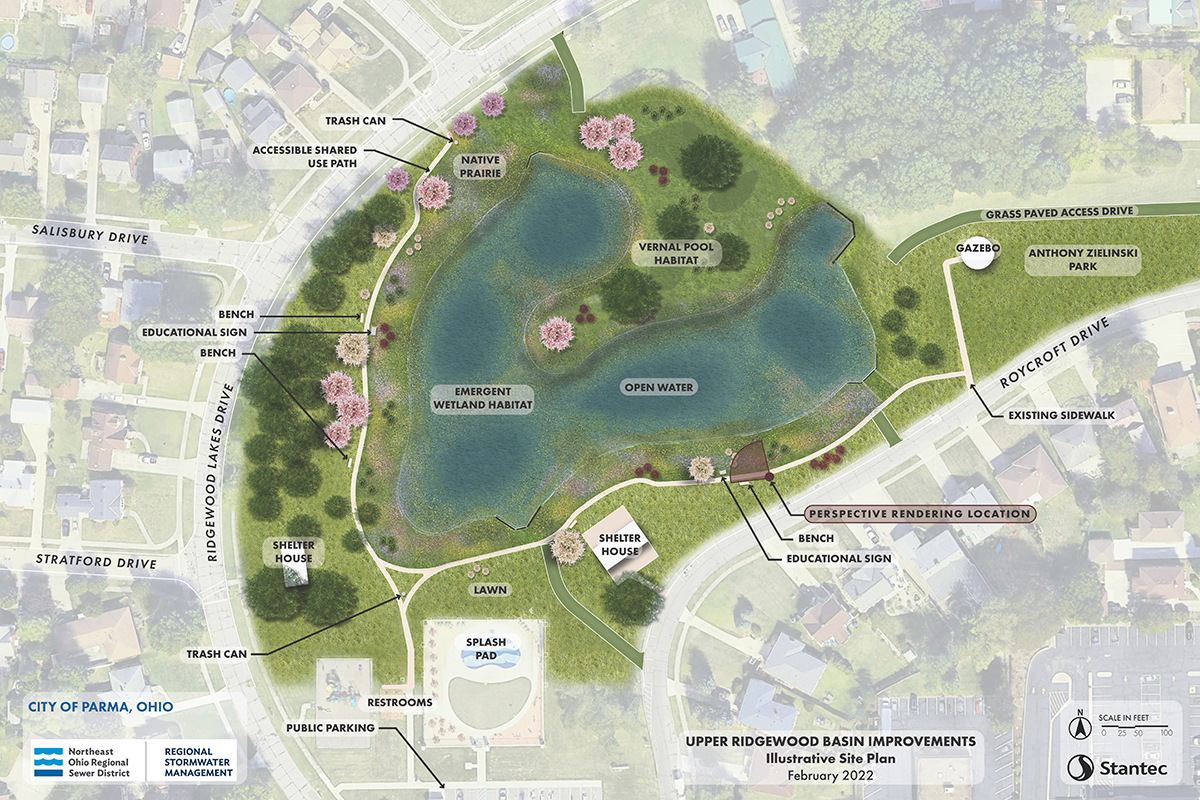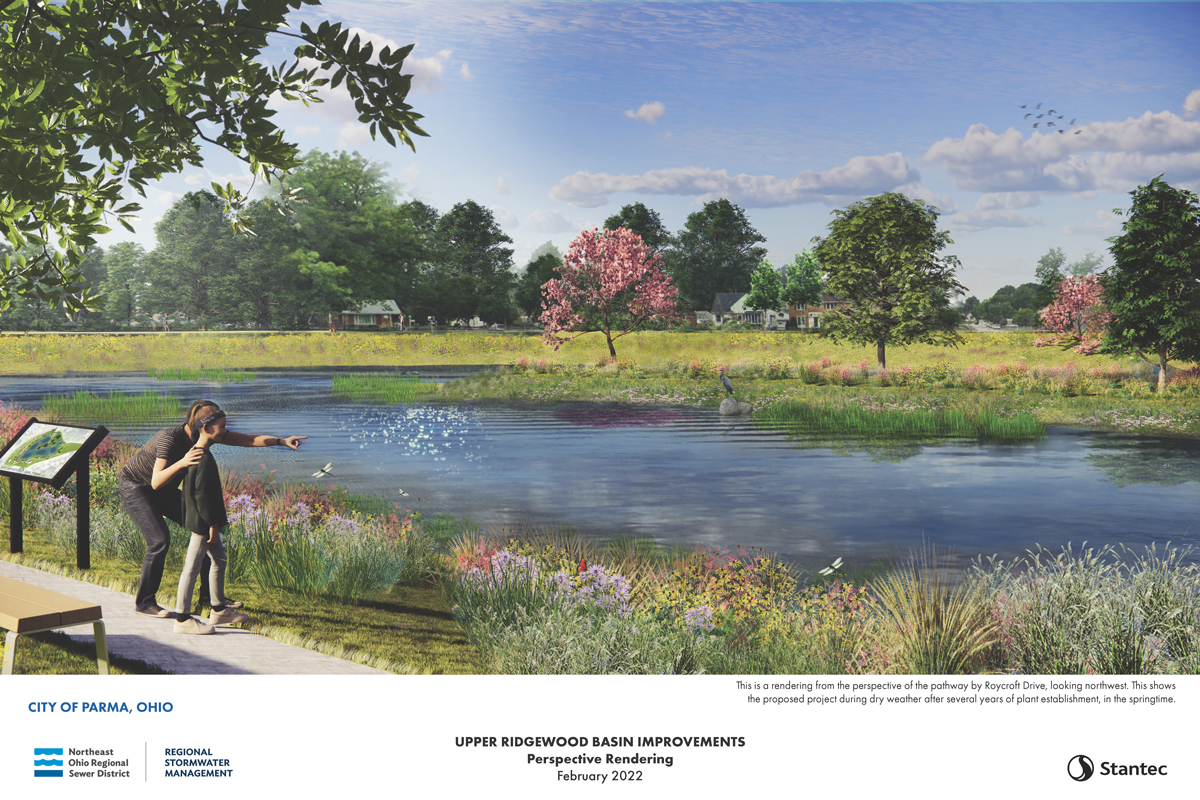 Public meeting archives
Recent media
"NEORSD to hold public meeting on Veterans Memorial Park basin project in Parma" [cleveland.com, November 2, 2022]
"NEORSD approves Parma's $3.3 million Ridgewood Lake Upper Ridgewood Basin project" [cleveland.com, July 13, 2022]
"Restoration project improves water quality and habitat in the Rocky River" [cleveland.com, July 8, 2022]
"NEORSD explains plan for Parma's Ridgewood Lake Park retention basin" [cleveland.com, February 21, 2022]
"Parma City Council vote expected soon regarding NEORSD's Ridgewood Lake Park retention basin project" [Parma Sun Post, February 11, 2022]
Stay up to date on this project
If you would like to stay informed, please email Watershed Team Leader Donna Friedman.