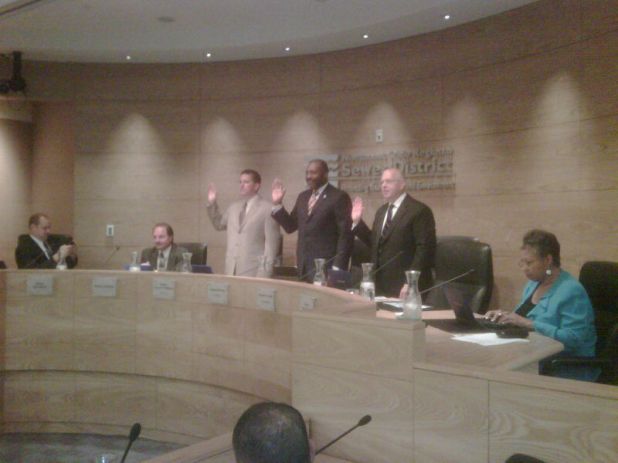 Brown, Sulik, DePiero are re-elected for 2011-2012
(L to R) DePiero, Brown, and Sulik are sworn in at this afternoon's Board of Trustees meeting
Today, the Northeast Ohio Regional Sewer District Board of Trustees re-elected Darnell Brown as President, Ronald D. Sulik as Vice President and Mayor Dean DePiero as Secretary for the 2011-2012 year.
Brown was first appointed to the Board by former Cleveland Mayor Michael White in 2001 and currently serves as Chief Operating Officer for the City of Cleveland. He previously served as Board President 2005-2011.
Sulik previously served on the Board from 1985-1994, was re-appointed in 2002 and most recently served as Vice President for 2010-2011. He represents the Sewer District's 61 suburban communities and has held the positions of President, Vice President and Secretary throughout his 19-year tenure.
DePiero, mayor of Parma since 2004, was appointed to the Board by the Cuyahoga County Commissioners in 2007. He previously served as Board Secretary for 2008-2011.
The Sewer District has undergone many changes in the last few years and the re-election of Brown, Sulik and DePiero continues to provide consistency and maintain continuity for the Board. Board appointees serve five-year terms and the complete list of Board Members is available at http://neorsd.org/board