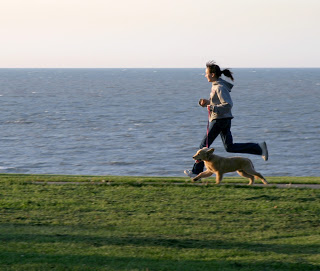 PUP: Picking up waste, dropping some knowledge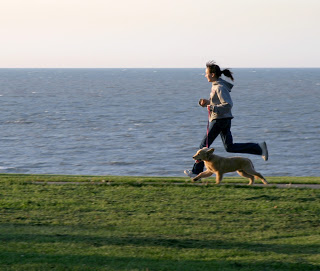 Photo by J. Quinn
Summer days and dog walking go hand in hand. On your walks, have you seen any of our PUP signs? The requests for them continue coming in, but so do the questions about the real motivators behind this successful campaign.
Our Pick Up Poop! (PUP) program comes down to two things: Water quality, and common courtesy.
The bac facts: Bacteria Tallahassee (Florida)'s "Think About Personal Pollution (TAPP)" runs a similar pet campaign, and they offer a helpful comparison between the amounts of bacteria in various animal wastes.

TAPP goes on to explain:
Dogs
present a special problem. Built to eat almost anything, dogs have as
especially large number of intestinal bacteria to digest that wide
variety of food, about 23 million bacteria per gram of waste.
Due to dogs' high-protein diets, their waste is highly acidic. It is not a fertilizer and can contain 10 times as much fecal coliform bacteria as cow manure, and also a whole lot of nasty stuff like e. coli, salmonella, and giardia.
In your backyard: Sure, our PUP campaign includes a plea for personal responsibility and common courtesy (don't leave your pet's waste on someone else's lawn), but even at home, leaving the waste to accumulate in your backyard is not the best option for similar health and environmental issues. There are better options available.
More than dogs? But the PUP program is about more than bacteria. One of our blog's guest posts came from The van Bekeren Foundation Executive Director Dr. Anna M. van Heeckeren, MS, DVM. She admits that the concern goes beyond dog waste.
Bagging it: The next logical question people ask is, "But is bagging the waste really any better for the environment?" Well, yes.
Our PUP campaign is about common courtesy and water quality, and improving behaviors in both of those areas are rarely bad ideas.