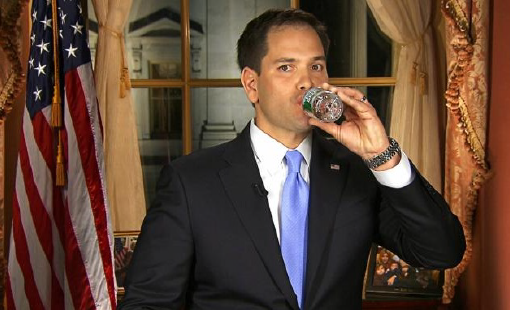 2016: 3 ways water could take center stage at Thursday's Republican debate #GOPdebate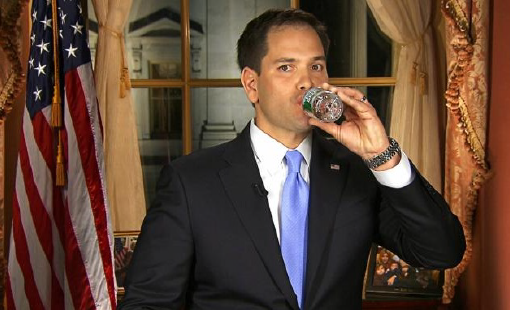 Senator Marco Rubio sips water during the GOP response to the 2013 State of the Union address.
We don't often talk politics. We talk water. But with the first 2016 Republican Debate taking place this Thursday right here in Cleveland, hey let's talk both.
Water could very well take center stage with the candidates this week, and we see three areas where it's most likely to happen.
1. Public speaking and staying hydrated
When Paul Ryan (R-WI) debated now Vice President Joe Biden in 2012, much attention was paid to his many sips of water between questions.
Whatever side of the aisle you're on, professional public speakers do recommend drinking plenty of water before big speaking engagements to keep oneself hydrated and dry-mouth-free on stage.
But as Senator Marco Rubio can attest, drinking water—bottled water BTW—during a big speech caaaaan get a little awkward.
2. On the issue of infrastructure and technology
We believe infrastructure funding is an important topic that should be debate-worthy well before November 2016, but it may not make the highlights on Thursday in Cleveland.
In the meantime, we found ontheissues.org does compile many of the candidates' (Dems, Repubs, and third-parties from current and recent elections) views on technology and infrastructure.
President Obama himself said infrastructure "shouldn't be controversial" when he visited The City Club here in Cleveland last March. Will the topic be worth the current challengers' valuable stage time Thursday?
3. Water and other natural resources
Could our own Great Lake or the Cuyahoga River come up in debate responses Thursday? We think it's likely, especially if environmental questions are raised. The challenges of algae blooms and Toledo's current water-quality concerns are microcosms of larger environmental issues like water scarcity that are on the minds of Americans. But how that topic will play into the moderator's line of questioning is to be determined.
Admittedly, if candidates are planning one-liners that could play to the debate's host city and be memorable soundbites in the days following, the burning river may have an advantage. But take our word for it: They'll be hard-pressed to conjure up a burning-river joke Clevelanders have never heard before.