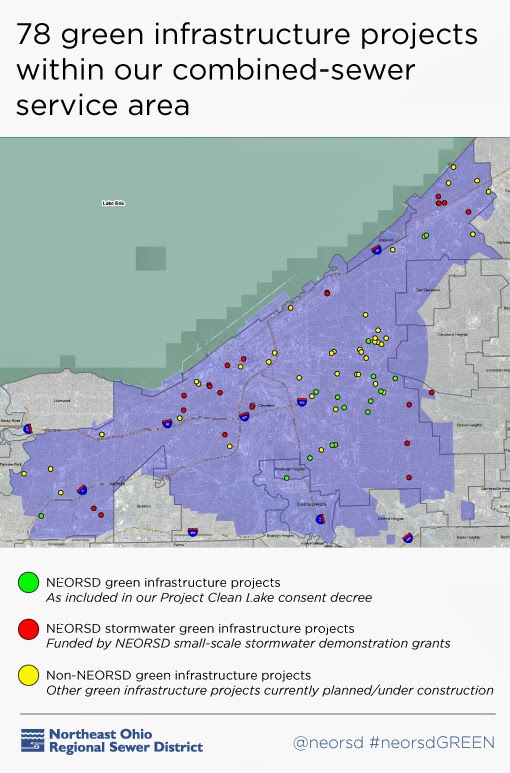 GREEN: 78 green infrastructure projects you might not realize are part of Cleveland's present, future
If you run in sustainability circles nowadays, it's a phrase you hear a lot: Green infrastructure, green infrastructure, green infrastructure.
But
in Cleveland, you might not be aware of just how many green
infrastructure projects are planned or under construction right now in
the Cleveland area. Seventy-eight, to be exact: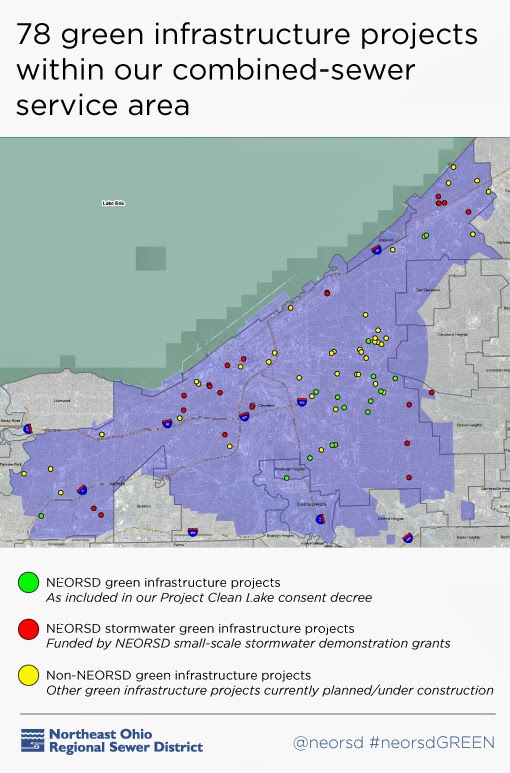 The purple area in the map above indicates an area served by combined sewers—sewers that carry both sewage and stormwater in the same pipe. It includes most of the City of Cleveland and portions of 11 surrounding communities, the region covered by Project Clean Lake, our 25-year consent decree that will reduce combined-sewer-overflow pollution by billions of gallons by 2035.
Green infrastructure projects are a key component of the groundbreaking agreement we signed with the federal government in 2010, so much so that the U.S. Environmental Protection Agency named us one of 10 national partners that will help shape the EPA's green perspectives for the future.
Project Clean Lake features seven large tunnels and more traditional gray infrastructure projects, but creative green opportunities will help us capture an additional 44 million gallons of combined sewer overflow.
Beyond this, we continue to examine all our Project Clean Lake projects for additional opportunities to replace gray infrastructure with green.
The graphic above features three distinct groups of projects:
Specific green projects we've outlined in our consent decree.

These projects are managing millions of gallons of stormwater. They involve strategically separating storm and sanitary sewers and constructing a green infrastructure feature—such as a large bioretention area—to treat the stormwater before discharging it to the environment and out of the combined sewer system. These projects will be complete by 2019.

Demonstration projects funded by our small-scale stormwater projects grants program, efforts undertaken by individual companies or community organizations to control stormwater and reduce contributions to the combined-sewer system.
Green infrastructure projects not directly affiliated with the Northeast Ohio Regional Sewer District's consent decree that will have a positive impact on pollution control, reducing stormwater contributions to the combined-sewer system.
We've posted a complete map with descriptions of the projects and locations as a PDF on Scribd.