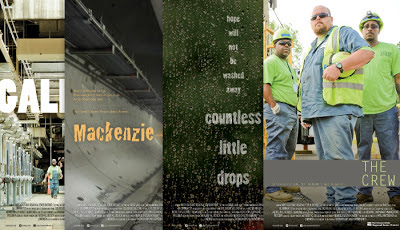 HOLLYWOOD: Here's our pitch, 4 films, 4 genres, 1 common theme: Clean water. And us.
From superheroes to sports dramas, Hollywood has made Cleveland home this summer and we're loving it.
Sure,
we offered a plant tour to Captain America and guests (the offer still
stands, BTW), but it got us thinking, "Would Hollywood find our unsung
work worthy of the silver screen?"
To get that conversation
started, we wanted to pitch a few plot lines that were rooted in our
clean-water work—but had touches of drama, or villainy, or romance that
just may appeal to some key movie-going demographics.
So picture this…
The gallery
Easterly
Wastewater Treatment Plant employees, while making improvements to a
plant building that dates to the 1930s, uncover long-hidden plans for a
water-treatment process that could change the world. Why has it been
hidden for so long? And who's trying to stop it from becoming a reality?
The crew
An
experienced crew of field tech operators must use their skills and
knowledge of the Sewer District's more than 280 miles of interceptor to
track down a zombie army growing its forces deep underground.
Mackenzie
Mackenzie is
the name of the huge tunnel boring machine digging an 18,000-foot-long
sewer tunnel 200 feet under Cleveland. She's state-of-the-art
engineering technology at its finest. …Until her guidance system begins
thinking for itself.
countless little drops
Robert and Ami have just purchased
the home of their dreams along the same river that ran through the town
where they both grew up. Little did they know that erosion and higher flow volumes
from development upstream have put their home at risk of
washing away forever. But is their marriage eroding faster than the
stream banks? Will rebuilding one help to stabilize the other?
We're talking endless possibilities! Of course, if plans are in the works for WaterWorld 2, Kevin's already in town, and so is our Great Lake.