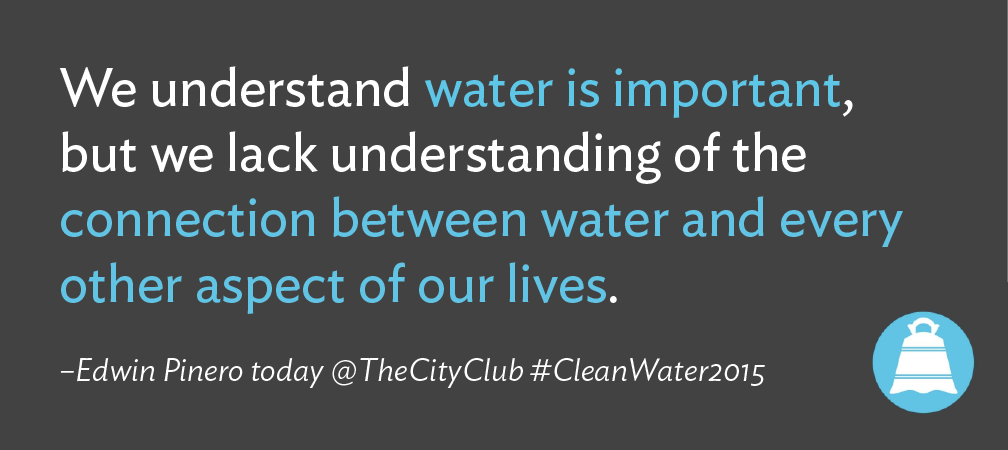 NEWS: What is water worth? "Business case" goes well beyond dollar signs / #CleanWater2015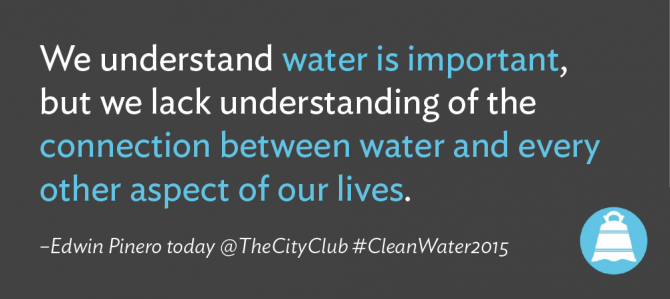 One can not solve the world's water problems in an hour. But Edwin Pinero used his hour to highlight five components of real solutions to the world's biggest water challenges.
Pinero kicked off The City Club of Cleveland's 2015 Year of Clean Water speaker series, and he was a fine voice to do so. He's the Senior Vice President of Sustainability and Public Affairs of Veolia Water North America, a firm focused on water, wastewater, and
energy resources and resource recovery.
The biggest issue we face, in his words: "We understand water is important," he said, "but we lack understanding of the connection between water and every other aspect of our lives."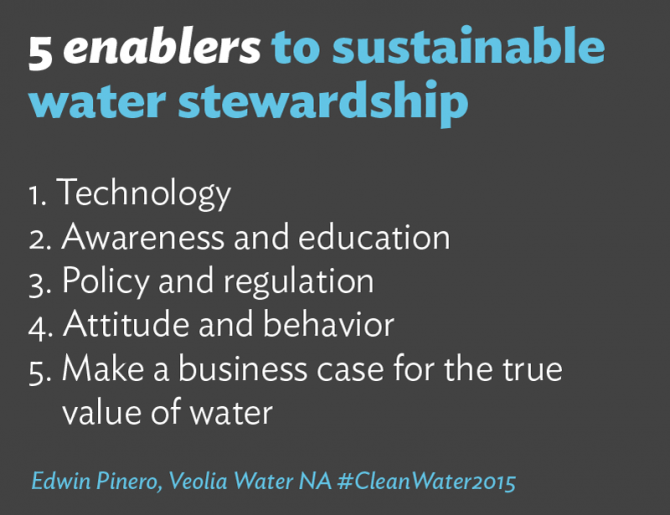 Pinero went on to explain that these facts are not mutually exclusive, outlining five factors that can make sustainable water stewardship an attainable goal: Technology, education, policy, attitude, and a solid business case.
"First, realize the importance of water; then understand the connection water has to everything else; and then take action." His enablers are means of taking action, he said.
Pinero said that often water-infrastructure decisions are based solely on "price" or "cost," but our understanding of these financial terms might be clouding the issue.
"We tend to use 'price' and 'cost' interchangeably. We should not really do that," Pinero said, indicating that the difference in terms speaks to the "psyche of society" and how water decisions are made.
"'Price' is the external payment you make for water, but there are many many other costs associated with water: direct, indirect, risk, and more." Pinero went on to say that in America, the price of water (what customers pay for water service) is "too low." Turning on a tap and filling a gallon of water costs a customer mere pennies. The same goes for wastewater treatment.
"But when we talk about the value, value is what drives behavior." In other words, our understanding of water's value, its true worth, affects our stewardship—or neglect—of the resource.
"When we think of choices, [we should] have a very holistic approach to why we make a decision, and not just based on the price. Take other things into consideration."
He acknowledged the efforts of local groups like the Cleveland Water Alliance and Sustainable Cleveland 2019 and national groups like the Value of Water Coalition, all of which the Northeast Ohio Regional Sewer District is a member, because of their efforts to bring agencies, experts, and corporations together, furthering the holistic approach he advocates.
"If here [in the Great Lakes region] you show that you care and can make a difference because you value the role that water plays in everything, imagine the example that you could set for the rest of the world in terms of stewardship."
Here is the complete video of Pinero's presentation and subsequent Q&A. Sustainable Cleveland also offers a great recap of some of the speech's highlights.
The Northeast Ohio Regional Sewer District sponsors the City Club Year of Clean Water speaker series.