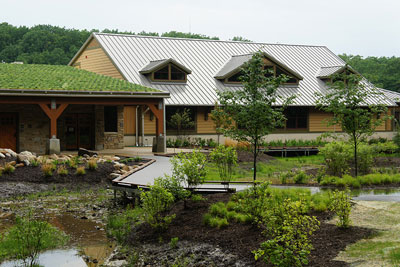 PLACES: Watershed Stewardship Center is a new hydration, restoration, education destination
Image courtesy Cleveland Metroparks
Starting tomorrow, you can experience your watershed in a whole new way.
The Northeast Ohio Regional Sewer District is proud to be a key stakeholder and partner with Cleveland Metroparks for the Watershed Stewardship Center at West Creek. The Sewer District supported the Center with a $3 million contribution towards the construction costs. In addition to this initial outlay, the Sewer District has made an annual in-kind commitment and will have staff permanently housed at the Center.
"It has taken much time since my predecessor Erwin Odeal first began this journey, but I am delighted that this impressive regional asset has finally come to fruition," said Julius Ciaccia, Executive Director, NEORSD. "As we open the doors to this world-class facility, we not only demonstrate our commitment to the Center, but our dedication to managing stormwater throughout our watersheds and our continued relationship with Cleveland Metroparks."
Starting Friday, the Watershed Stewardship Center at West Creek will host a series of Grand Opening events, including an Open House and Community Discovery Day.
In addition to the Watershed Stewardship Center at West Creek, the Sewer District is involved with other Cleveland Metroparks programs. The Sewer District sponsors Cleveland Metroparks Kids Club and Outdoor Odyssey event, as well as Cleveland Metroparks Zoo's Summer Day Camp, Meet Your Best Friend event, and Dinosaurs! exhibit. Every Tuesday morning throughout the summer, Sewer District staff teaches zoo campers ages 5-12 about the urban water cycle and the importance of safeguarding our great freshwater resources.