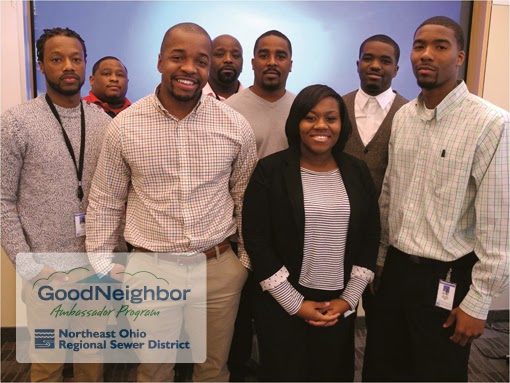 PROFILE: Good Neighbors, good work in the Glenville community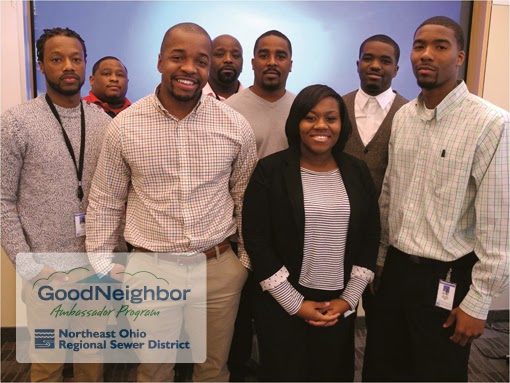 The first class of Good Neighbor Ambassadors (l to r): Brandon Hogan, Galen Adams, Anthony Body, Donnell Green, Dareus Hiley, Ciera Campbell, Tyronn Dunn, and Sircharles Williams
The goal of the Good Neighbor Outreach program is to connect the District with the communities it serves, and our Good Neighbor Ambassadors act as liaisons between the District, various community and business organizations, and the general public.
Made up of seven Ambassadors and Supervisor Anthony Body, the Good Neighbor team's current focus is the Glenville neighborhood for the duration of Dugway Storage Tunnel construction as part of Project Clean Lake.
The Ambassadors keep Glenville residents up-to-date on what is happening in their neighborhood, distributing informational materials, answering questions, and addressing concerns about the District's construction projects.
The Ambassadors also perform clean-up and maintenance work near the job site, and participate in various District initiatives, including educational and professional-development opportunities, relationship-building, and community engagement.
In addition, the program prepares its Ambassadors for full-time employment. Each week, with the help of Cuyahoga Community College and The Cleveland Foundation, the Ambassadors receive career-development training on such topics as resume writing and personal finance skills.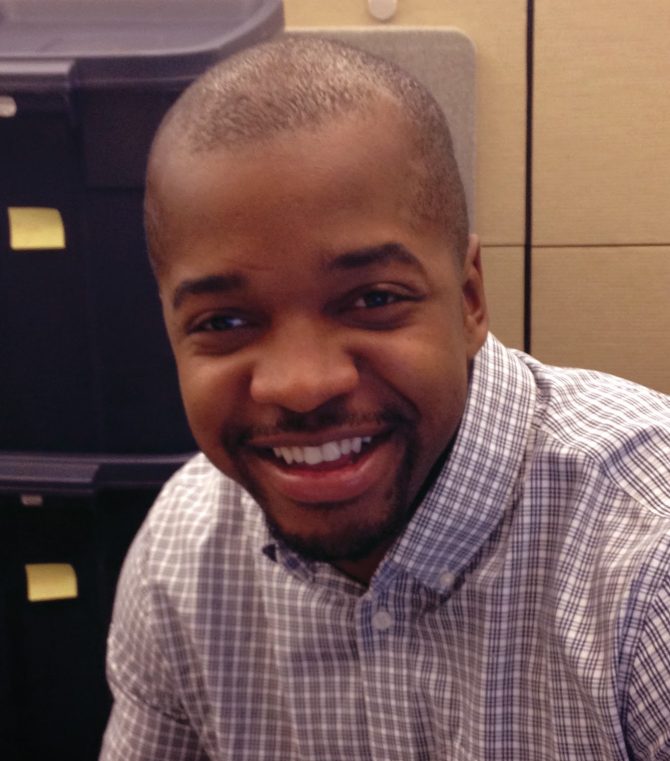 Anthony Body
Supervisor Anthony Body knows he has a lot of responsibility. "You have to lead by example," he said. "I do the same things all of the other Ambassadors do and I try to guide them in the right direction."
With a background that includes non-profit work at the Famicos Foundation and Organizing for Action, Body felt like he belonged in this role. "The Good Neighbor program already fit the work I was doing, but gave me a greater reach," he said. "We can be the voice of the District and agents of change at the same time."
Body believes that other companies could benefit from having a Good Neighbor program. "I would like to see other institutions become more engaged with the community," he said. He also has a passion for helping young people. "So many times, the youth get pushed to the side," he said. "They need our attention because they are our future."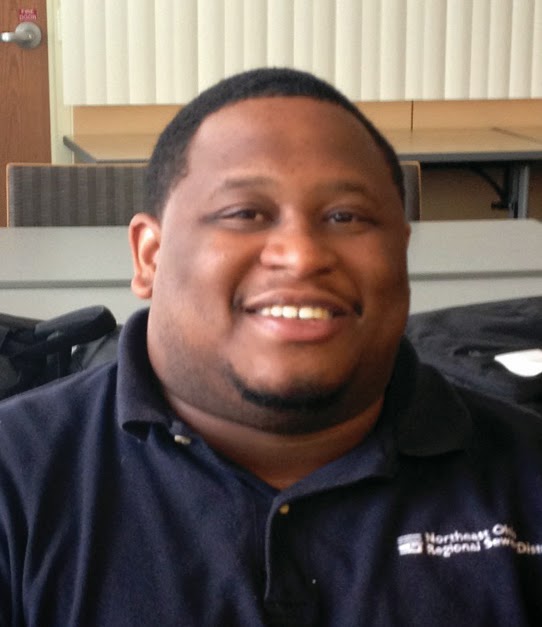 Galen Adams
With a background as a camp counselor and dietary clerk, Galen Adams is familiar with community involvement. "Our job includes community beautification, outreach, and bringing people information," Adams said. "When our job is done, I want to be able to say that this Good Neighbor program was a big success."
Adams is already considering his next career steps. "Hopefully I can land a career in Information Technology or Maintenance," he said. Of the seven Ambassadors hired into the program earlier this year, five of them have already secured full-time employment.
Brandon Hogan was enthusiastic when introduced to the Good Neighbor program, and after his interview, he knew he wanted to be a part of the District's work. "I've never been in an interview process like that," Hogan said. "The District made it clear that they wanted to help us further our careers."
Hogan especially likes the Workforce and Economic Development class the Ambassadors are enrolled in at Tri-C. Eventually, he sees himself working in the District's Operations & Maintenance department, or pursuing an Engineering degree.
Sircharles Williams recognizes the importance of the Good Neighbor program to his community—and to his own career. "We're the eyes and ears of the community, and the program is our launch pad to future success," he said.
"To become a professional, you have to develop a career mindset," Williams added. "I want to utilize my knowledge to the best of my abilities, to become an asset." In order to do that, he says, "you need education and a determined work ethic, and you have to love what you do."
Williams is the first Ambassador to find full-time employment through the Good Neighbor program. He recently transferred to Southerly, where he works as a Storekeeper.
—By Salvatore Mannarino. Sal studies Communications at Kent State University.