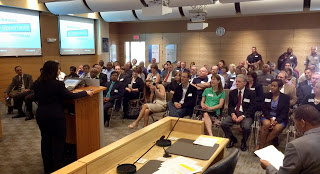 #SmallBizWeek: Honoring the entrepreneurial spirit of small businesses, big opportunities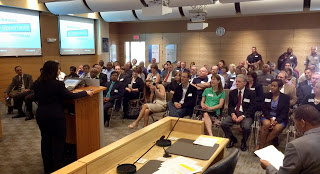 "We want to say thank you."
Benjamin Holbert's simple statement May 6 kicked of the Sewer District's first-ever Small Business Week reception to acknowledge the more than 140 small, women-owned and minority-owned businesses that we worked with in 2014.
Holbert is the District's Business Outreach Coordinator working in Contract Compliance.
The event was coordinated by the @neorsd Business Opportunity Program as part of National Small Business Week. The Business Opportunity Program certifies M/W/SBEs to promote greater opportunities for doing business on District projects.
"This is the real deal," said Greater Cleveland Partnership Deputy Executive Director Deborah Bridwell about the efforts of the program. Last year, Sewer District contracts and subcontracts to Business Opportunity Program-certified firms topped $40 million. And the initiative of small-business owners like those in attendance did not go unnoticed.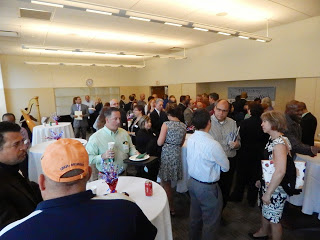 "Entrepreneurship is key to the economic recovery of this region," said Marcia Mockabee, President and CEO of the Urban League of Greater Cleveland.
Chief Operating Officer Kellie Rotunno also thanked attendees, connecting their work to huge investments being made in the region like Project Clean Lake. "That $3 billion program? It's actually coming in less than $3 billion now as work progresses. That's because of smart engineering, competition, and the good work many of you are doing with us on these projects."
Contract Compliance Manager Tiffany Jordan added: "Cleveland, Ohio has several large events coming to town, such as the Republican National Convention and more. It's important that we think about how we do business today and who we do business with, which is our friends and our neighbors."