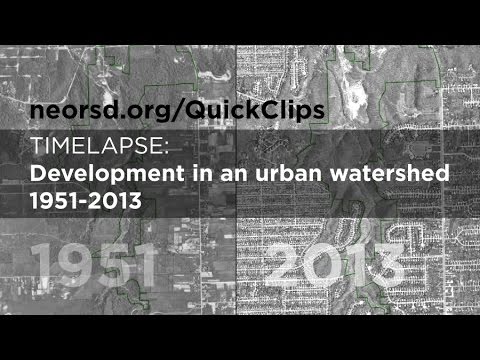 WATCH: Here's what 62 years of development looks like in 45 seconds
Development affects landscapes and how water interacts with the natural environment.
In this series of aerial images from the Cleveland Metroparks and the West Creek Conservancy, you can see how urban development has reduced the amount of green space across the West Creek Watershed since 1951.
Increasing hard surfaces like streets and rooftops increases the amount of stormwater runoff that discharges to local waterways like West Creek. That runoff increases the velocity, toxicity, and volume of water which leads to erosion and bank instability.
The award-winning Cleveland Metroparks Watershed Stewardship Center at West Creek in Parma offers programs and resources to help residents learn how they can manage stormwater at home and in their neighborhoods to reduce the regional impacts of stormwater runoff.