Government & Legislative Affairs Bulletin

May 2020 | Updated May 14, 2020
LEGISLATIVE AFFAIRS
On March 27, the Governor signed HB 197 which addressed many procedural matters that were impacted by COVID-19, including extension of absentee voting, unemployment compensation, tax compliance, K-12 requirements, policies for public hearings and more.
HB 197 also included the prohibition of water shutoffs during a pandemic and required re-connection for delinquent ratepayers. Ohio EPA signed the order from the bill and provided guidance on when a delinquent ratepayer should be eligible for a re-connection.
The Ohio Water Development Authority does not expect any disruption to their State Revolving Loan Fund Programs during the pandemic, however they unable to skip or defer any such payments for any borrowers.
Some of Ohio Public Works Commission funding programs, such as State Capital Improvement Program (SCIP), which includes Small Government and Emergency programs, Revolving Loan Program (RLP), and the Clean Ohio Green Space Program have been delayed due to capital bill for the next biennium not passing the legislature by the end of March. In addition,  the capital reappropriations bill was also  delayed which impacted previously funded SCIP, RLP, and Clean Ohio projects. The Ohio Constitution limits the length of appropriations to no more than two years. The Ohio Senate announced that they intend to introduce the capital reappropriation bill in the coming weeks and hope to have it passed by all chambers before July 1. The bill would provide $450 million to OPWC.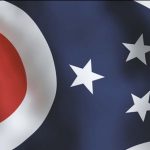 Due to the state tax revenue decreases in March, April and may continue into further months, Governor DeWine implemented a state hiring freeze and asked state agencies to identify up to 20% reductions in their budget spending.  In early May, Governor DeWine revealed the $775 million agency budget reduction plan for the rest of FY 2020 (ending June 30).
Ohio House and Senate leaders are also discussing the need for a corrective budget bill to address the potential revenue losses and economic impacts they expect for FY 2021. The state's Budget Stabilization Fund, also known as the Rainy Day Fund is expected to be used for that years likely budget shortfall. The state's H2Ohio Plan remains a priority although the program may have to be adjusted.
Ohio also received $1.2 billion from the Coronavirus Relief Fund created in CARES Act (more on the Act in the federal section) to assist the state and local governments in direct COVID expenses during the pandemic. The Ohio Senate introduced and passed SB 310 as a mechanism to distribute the funds. The bill is now pending in the Ohio House. NEORSD penned letters to both chambers asking that regional water and sewer districts (6119 districts) have access to the Coronavirus Relief Fund as they are not currently among the political subdivisions that are included in LGF funding formula being used in the bill and would not be eligible for the funding.
The state extended the Stay at Home order (now called the Stay Safe Ohio order) to May 29 but began allowing some businesses to re-open in May. Manufacturing, distribution construction and general offices reopened May 4, retail stores reopened May 12 and personal care services (such as nail salons, hair salons, tattoo/piercing parlors, massage centers, spas etc.), bars and restaurants will reopen May 15. The state continues to work on reopening of other businesses/activities such as travel and tourism, fairs, large venue gatherings and gambling industries.
The Federal government enacted the Families First Coronavirus Response Act (FFCRA) on March 18, 2020. The bill provides emergency paid sick leave and tax credits, expands the FMLA, provides free COVID-19 testing, expands food assistance and unemployment benefits; and increases Medicaid funding.
The CARES Act became law on March 27, 2020. The $2 trillion aid package provides financial aid to families and businesses impacted by COVID-19 coronavirus pandemic.
The CARES Act included several funding packages available for state and local governments:
Municipal Liquidity Facility (MLF) program: $500 Billion in direct financing. Read more.
Coronavirus Relief Fund: $150 Billion. Read more.
As the next stimulus packages continue to form (such as the HEROES Act), we hope that Congress considers financial relief for public clean water agencies due to the potential significant revenue losses the agencies are facing. Revenue streams are needed to maintain service for public clean water.
We have sent a letter to each member of the Cleveland federal delegation to better depict the scale of impact that COVID-19 has had on public clean water agencies.
We have also sent the US ACE Huntington District a letter in April on the proposed Ohio Stream and Wetland Valuation Metric (SWVM) rule that was open for public input and comment.
The federal Senate Environment and Public Works (EPW) committee unanimously passed its Water Resources Development Act (WRDA) proposal, America's Water Infrastructure Act (AWIA 2020) in early May. The final WRDA bill likely will not be fully passed until the end of the year.
---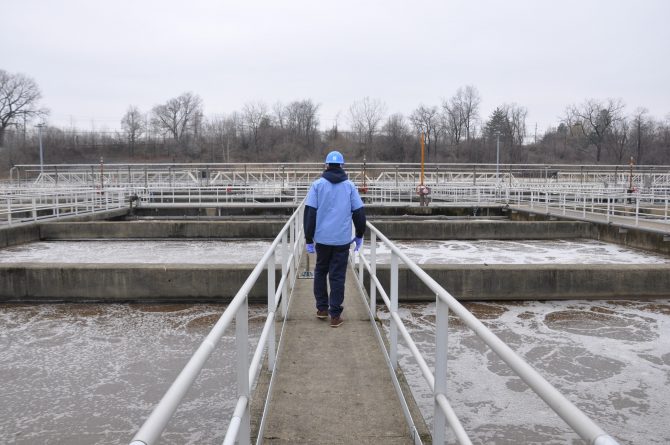 Creativity and commitment, employees continue their critical work  
We checked in with several Sewer District departments to see how our employees are managing in light of evolving COVID-19 control measures. Cooperation and creativity are helping us meet this challenge.
"The situation keeps changing, and you have to be able to adapt. The highest priority is making sure the equipment stays up and running so the operators can do what they do," said Plant Maintenance Manager Kate Rybarczyk. "We're doing the best we can with what we've got. It's interesting to see what comes out in people in these situations. Sometimes you see the best in people."
Rybarczyk said that to minimize exposure, Westerly has divided its Maintenance crew in half. Each group reports to work every two weeks, with the expectation that everyone is on call if they're needed. All meetings at the plant have been cancelled, and staff sit one person to a table in the lunchroom or eat at their workstations.
Maintenance Services Superintendent Kevin Zebrowski said that the departments he oversees are working to ensure that operators' facilities are fully working. "Our SSMO crews are divided into two- and three-person teams working on rotation," he said. "There is only one crew member per truck, and they're focusing on inspections of EPA-monitored sites and our pump stations. We're doing more remote monitoring for our trouble-spot inspections, trying to work smarter," said Zebrowski.
"There is a lot of concern in our industry, due to what we have to deal with," he said. "But we're using the same PPE we've always used to avoid contact with other viruses that live in wastewater, like hepatitis." He added that most of his staff are remaining positive and stepping up to the challenge. "Our Administrative Services team have really elevated their game, working tirelessly and running around distributing supplies as part of the logistics division for the Incident Management Team," Zebrowski said.
Watershed Team Leader Donna Friedman said that almost everyone in her workgroup is working remotely. "We're still just as busy," she said. Some work is suited to the stay-at-home order. "We're busy reviewing tons of stormwater master plan materials, so it's a lot of reading," Friedman said.
Our Analytical Services department has gone to "mission critical," according to Manager Cheryl Soltis-Muth. Her team had been doing full sampling as usual, splitting staff into two shifts to have fewer people in the lab. Now, the analysts are only doing testing required for maintaining the plant permits, and drinking-water analyses for the Cuyahoga County Board of Health and Lake and Summit counties.
"The plants are our number one customer," Soltis-Muth added. "We're working closely with them to make sure they have everything they need to run the plants, and to keep communication flowing and make sure decisions are well thought-out."
Lab staff are used to wearing personal protective equipment (PPE) and keeping surfaces clean and sterile. In this respect, it's very much business as usual. "People are nervous, but they have been really good," said Soltis-Muth. "We are all being asked to make sacrifices. We are in this together and need to stay strong."
---