NOTICE: Inbound West Shoreway's W. 45th St. exit to temporarily close for sewer project
Posted by John Gonzalez
9297 Views
November 8th, 2018
No Comments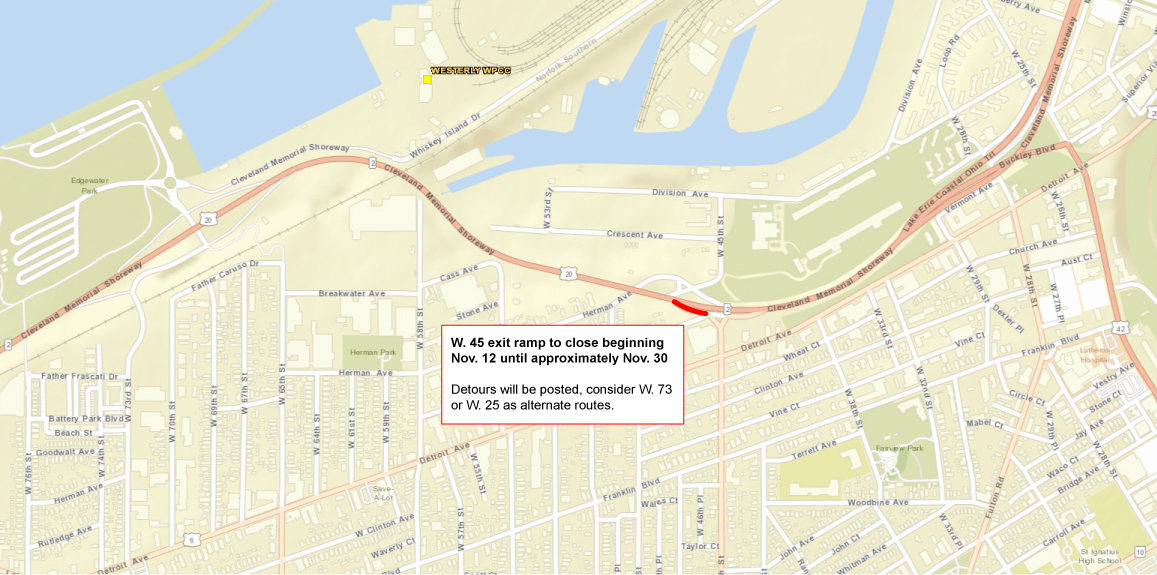 Drivers traveling eastbound on Cleveland Memorial Shoreway must use W. 73 or W. 25 exits beginning Nov. 12
---
Cleveland (November 9, 2018) – Starting Nov. 12, the W. 45th St. ramp for the West Shoreway will close for approximately three weeks. Drivers along the Cleveland Memorial Shoreway accessing Detroit Ave. and other neighboring streets should use either the W. 73rd St. or W. 25th St. exit ramps.
The ramp is expected to re-open Nov. 30.
This ramp will temporarily close so the Northeast Ohio Regional Sewer District can continue construction of the Westerly Storage Tunnel. This project began in May 2018 and is the first tunnel on Cleveland's west side. This $135 million project will capture 300 million gallons of combined sewage annually, preventing flows from entering the Cuyahoga River. The two-mile long tunnel runs beneath Tremont, Ohio City and Detroit-Shoreway neighborhoods.
This project includes construction near the intersection of Tillman Ave., W. 45th St. and the Cleveland Memorial Shoreway. When construction is complete, this site will allow maintenance crews to access the Westerly Storage Tunnel.
This project is part of Project Clean Lake, the Sewer District's $3 billion, 25-year program to control the amount of raw sewage discharged into area waterways, including the Cuyahoga River and Lake Erie, during heavy rain. Project Clean Lake will reduce combined sewer overflow (CSO) from 4.5 billion gallons to 500 million gallons by 2036.