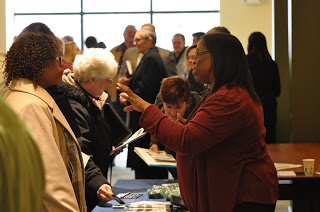 EVENT: #2016outreach contractor opportunities event draws overflow crowd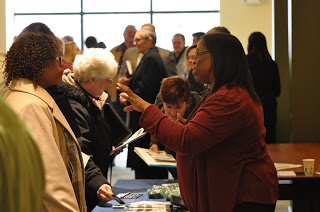 Contract Compliance Officer Diana Jones greets guests January 21.
Construction contractors from Northeast Ohio and across the Midwest came to Cleveland recently to hear details about $140 million in construction projects presented by the Northeast Ohio Regional Sewer District.
Sewer District engineers rolled out plans for nearly a dozen construction projects—including the Dugway South Relief and Consolidation Sewer in Cleveland and East Cleveland—on Thursday, January 21, at the Centers for Families and Children in Cleveland.
"We were very pleased with the significant turn out for this outreach event" said Tiffany Jordan, manager of contracts and compliance. "It was exciting to see the diverse businesses and operators in the room."
You can hear the full event podcast courtesy Diane Helbig below.
"We were able to attract contractors that mirror the demographics of northeast Ohio and we look forward to providing additional programs offering education, awareness, and a greater understanding of our procedures."
Multi-million-dollar sewer projects will carry sub-contracting opportunities for small, minority and women-owned businesses. To date, nearly 500 small businesses are registered contractors with the Sewer District, and, since the inception of the Business Opportunity Program in 2010, more than $137 million has been paid to local businesses.
"The Dugway South Relief and Consolidation Sewer is part of Project Clean Lake, the Sewer District's initiative to reduce sewage discharging into the environment from 4.5 billion gallons to 500 million gallons," stated Constance T. Haqq, Director of Administration and External Affairs for the Northeast Ohio Regional Sewer District.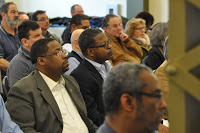 To be considered for Sewer District procurement opportunities, all non-certified vendors must complete an application, which can be found on-line at neorsd.org/opportunity
All small businesses must have a physical business address located within the boundaries of Ashtabula, Carroll, Cuyahoga, Geauga, Lake, Lorain, Mahoning, Medina, Portage, Stark, Summit and Trumbull counties. The Sewer District encourages eligible firms to become a registered vendor, so the companies can bid on upcoming projects.
— NE Oh Regional Sewer (@neorsd) January 21, 2016