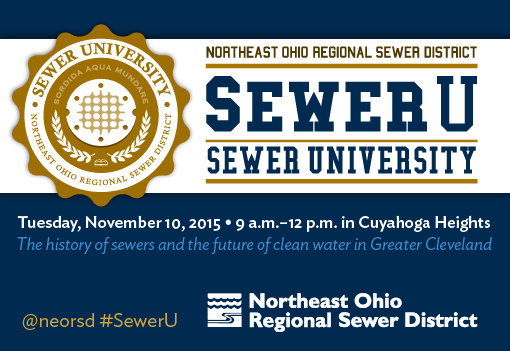 EVENT: Sewer University #SewerU now enrolling, your 101 course for Northeast Ohio's sewer history and water future
All participants graduate sewer cum laude with a Business major and a minor in puns.
Have you ever wondered where "it" goes in Northeast Ohio? If so, register for our first ever Sewer University (#SewerU) Tuesday, November 10 from 9:00 a.m. to 12:00 p.m at our Environmental & Maintenance Services Center, 4747 E. 49th Street in Cuyahoga Heights [map].
DOWNLOADS: View the slidedeck / Download PDF
RELATED NEWS: LISTEN: WMMS host Alan Cox loves the idea. Not sure about his #SewerU football team suggestions, though.
This half-day journey into the history of sewers and the future of clean water in Greater Cleveland will take place at the Sewer District's Environmental & Maintenance Services Center located at 4747 East 49th Street in Cuyahoga Heights [map].
Frank Greenland, Director of Watershed Programs and a 27-year Sewer District veteran, will lead the two-hour discussion and Q&A session, which will include:
History of sewers across northeast Ohio
Why the river burned many times before 1969
Stormwater, flooding and monitoring water quality
The designs and dangers of sewer systems
Infrastructure: Why gray and green matter
The costs of clean water and a Great Lake
Plus, from 11:00 a.m. to 12:00 p.m., attendees can participate in an optional tour of the Sewer District's laboratory or Southerly Wastewater Treatment Plant, the largest in the State of Ohio.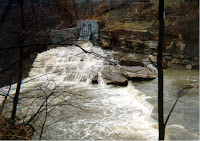 "I'm very committed to clean water and passionate about the Sewer District's work to keep our Great Lake great," said Greenland. "I'm happy to lead this very important discussion and use my experience to educate others about important water quality issues."
The presentation is an introductory-level overview and is great for students, residents, public officials, professionals, media, and anyone who cares about clean water.
About the Northeast Ohio Regional Sewer District
The Northeast Ohio Regional Sewer District operates three wastewater treatment plants and related water pollution control facilities on Lake Erie and the Cuyahoga River to assure clean water for a Greater Cleveland. We serve more than one million people in 61 suburban communities and the City of Cleveland, treating more than 90 billion gallons of wastewater annually. Please visit www.neorsd.org for more information.
About Frank Greenland
Mr. Greenland has worked for the District since 1988. Formerly a Planning Engineer, Project Engineer, Planning Manager, Deputy Director of Engineering & Construction, Director of Capital Programs, he is now Director of Watershed Programs. He has been involved in a variety of wet-weather projects, including the District's $3 billion Combined Sewer Overflow (CSO) Control Program, Project Clean Lake, and the development of the Sewer District's Regional Stormwater Management Program. A registered Professional Engineer, he earned his degree in Environmental Engineering Technology from the University of Dayton and Masters in Civil Engineering from Cleveland State University. Plus, between you and me, he's a pretty awesome speaker.