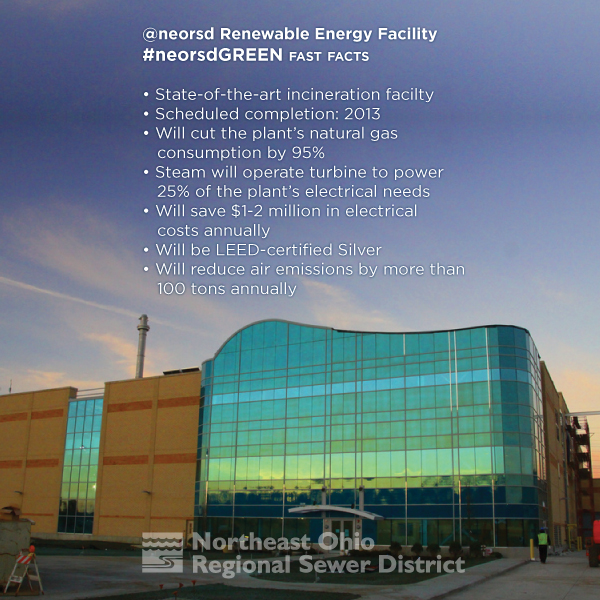 GREEN: #neorsdREF will be a clean, green, sustainability machine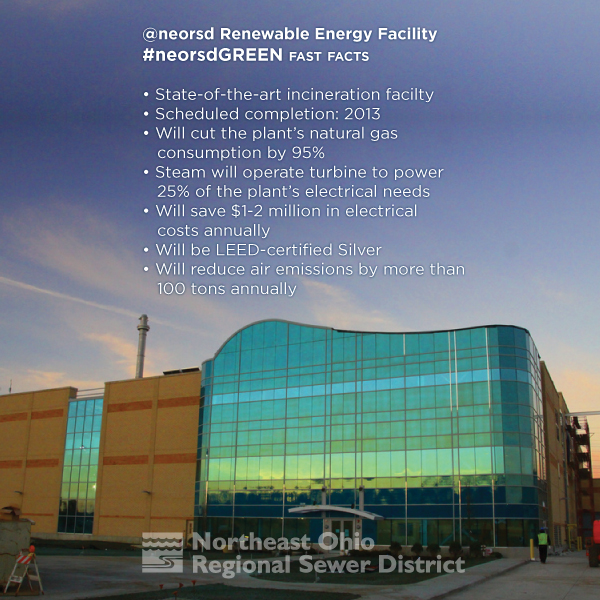 Incinerating with sustainability in mind? Yes, you read that correctly.
The Sewer District is nearing completion on its LEED-certified Renewable Energy Facility (or REF), the future energy-generating home of three new incinerators that will burn biosolids more efficiently with less resources. The new REF will be up and running later this summer, and we'll feature the project at this Sunday's EarthFest presented by Earth Day Coalition at the Cuyahoga County Fairgrounds.
Biosolids are just what the word sounds like: Solid biological material left over from the wastewater treatment process. Most of it is incinerated, and until this year, most of the biosolids at the Southerly Wastewater Treatment Center were burned in nearly obsolete incinerators more than 45 years old.
Three new fluidized-bed incinerators are top-of-the-line when it comes to sustainability: They conserve natural gas and reduce greenhouse gas emissions, and renewable-energy upgrades at our facility will capture the waste heat to spin turbines that will generate 25% of the plant's electrical needs.
While they consume less natural gas, they maintain a tremendous amount of heat, burning at about 1,600° Farenheit.
The $170+ million project will save us $1-2 million per year in electrical costs and cut our natural gas consumption by 95%. Construction is scheduled for completion later this year.