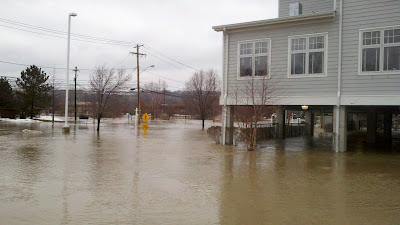 ISAAC: Forecasts keep us on our toes even in Ohio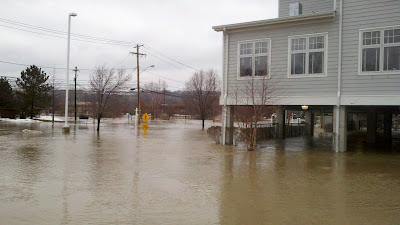 Some flood events, like this one along the Cuyhoaga River along Old Rockside
Road in 2011, can't be predicted. But when they are, we prepare accordingly.
As the remnants of Hurricane Isaac make their way north—and as we hope for the safety of residents and first-responders in Isaac's wake—local forecasters were predicting significant rain in Northeast Ohio this holiday weekend.
While the threat has tailed off, the storm raises the question: How do Sewer District crews get ready for these kind of anticipated strong storm (and therefore sewer flow) surges?
Prediction, preparation, and personnel.
Prediction.
Keep in mind that our wastewater treatment plant crews are always watching the weather. This is because much of our service area sits upon combined sewers which carry both sewage and stormwater in the same pipes; so when a storm hits, it greatly increases the amount of stormwater flowing to our treatment plants. We have a helpful one-minute video for reference:
Knowing a storm system is on the way allows shift managers to call in additional staff in advance to help out. We've done this for this weekend.
It also allows us to monitor trends in pollution and better prepare for future events. For example, before Hurricane Katrina in 2005, our sewer maintenance crews installed monitors in several Southerly interceptors (large trunk sewers that collect flow from smaller community sewers) to collect data on pollution levels entering our treatment plant before, during, and after a sustained rainstorm. We gathered valuable data at that time.
Preparation.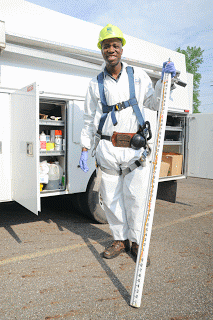 Preventative maintenance plays a big part in wastewater treatment. Some of that is done in the treatment plants, some is done in the sewer system (clearing blockages and making repairs), and that combination reduces or eliminates disruptions that can occur when storms hit. It also extends the life of our infrastructure and equipment.
Weather- and flood-related threats harkens back to February 2011 when a unique combination of a heavy storm, snow-melt, and saturated ground lead to extensive flooding in Northeast Ohio, including our Southerly plant in Cuyahoga Heights. A potentially dangerous situation was averted as employees maintained treatment during this time and managed repairs without effecting water quality.
Personnel.
Many of our operators, technicians, and supervisors are, in their words, "high-flow experienced." It speaks to the insight gained over years of on-the-job learning. When storms like this are anticipated, this insight helps them evaluate scenarios, process adjustments, and maintenance issues to ensure the entire treatment system—from sewers to the plant and back to the lake—functions efficiently and safely to protect our customers and the environment.
Special thanks to Easterly Superintendent Bob Bonnet, Westerly Assistant Superintendent Daniel Smith, Manager of Sewer System Maintenance & Operation Brian Stapleton, Deputy Director of Operations & Maintenance Ray Weeden, and Southerly Assistant Superintendent Kevin Zebrowski for their insight.