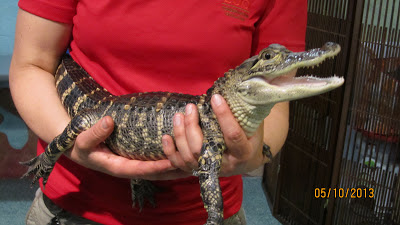 UPDATE: Our little girl is growing up, rescued gator is hearty and healthy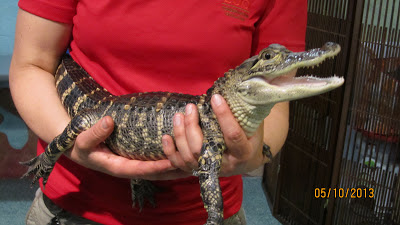 Jenni didn't change her number, but she did change her name.
The 18-inch alligator our sewer maintenance crews rescued from Big Creek near Jennings Road in Cleveland last November has been living comfortably with Cleveland Metroparks Zoo, and one of her rescuers got to visit her recently.

George Uhl—a Sewer Systems Maintenance and Operation supervisor who responded to his crew's call that day—visited the zoo with his family May 10 and Metroparks Zoo graciously welcomed him back to see how the alligator was doing. Here's what he told us via email:
A couple of weeks back I had family in town and we went to the Zoo. I made arrangements to see our alligator and they were happy to oblige. She is about twice as big as when we turned her over to the zoo! They renamed her Chickasaw for the fact that she is very feisty and from Louisiana where this type of American alligator is from. She is used regularly in their educational area with school groups and such. If she continues to do well…they will keep her until she is 4-feet long. She will then be shipped to a preserve in Florida for
breeding and to live.
Thanks for the update, George. George is retiring at the end of this month, and this story will certainly go down as one of our favorites.