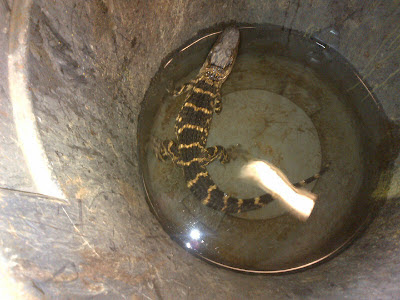 NEWS: @neorsd crew rescues 18″ alligator from Big Creek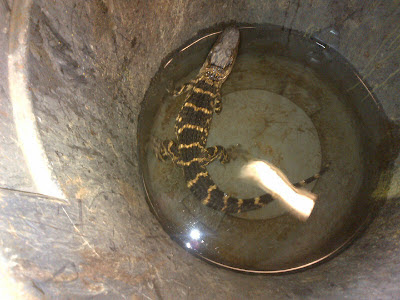 Today, crews from the Northeast Ohio Regional Sewer District rescued an alligator from the shallow waters of Big Creek.
A surveyor saw the reptile in the creek near a sewer outfall and alerted Sewer District crews who were conducting maintenance on the agency's Jennings Road Pump Station. In an effort to revive it, crews placed the animal in a garbage can with warm water. The alligator is about 18 to 24 inches long and its species was not known. The Ohio Department of Agriculture (ODA) has been alerted.
To ensure its safety, the Sewer District crew transported the alligator to the Sewer District's EMSC facility located at 4747 East 49th Street in Cuyahoga Heights. Laboratory staffers are caring for the animal until the Sewer District receives further instruction from the Ohio Department of Agriculture.
Given that deadline for registering exotic animals—which includes alligators—with the Ohio Department of Agriculture was on Monday, November 5, 2012, there is speculation that the animal may have been released to avoid the costs of the new regulations. However, it has not been confirmed. As a precaution, however, Sewer District officials strongly urge owners of exotic pets not to release any type of exotic reptile into local waterbodies or in sewers.
Any questions regarding exotic animals should be directed to the Ohio Department of Agriculture at (614) 466-2732.