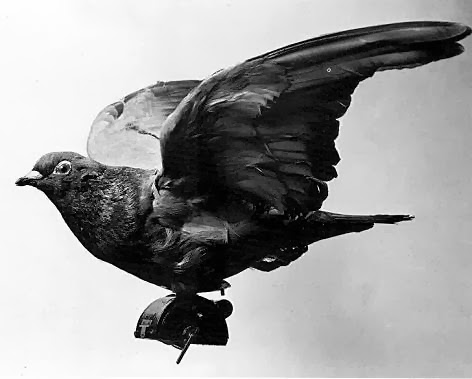 HISTORY: Next time you tap an address into your GPS, thank a pigeon. #GISday
Before there was Google Maps, there were pigeons.
Every November, GIS Day showcases geographic information system (GIS) technology that many of us use every day without even thinking about it. It's a large part of our work, and our own GIS team has routinely used the unofficial holiday as a soapbox for sharing little-known facts about the technology and its amazing potential.
GIS Analyst Eric Baker recently reflected on the history of remote and satellite imaging dating back to the 1800s. That history included references to the year 1906 when professional photographers would harness one-shot cameras to the breast of carrier pigeons.
The Professional Aerial Photographers Association tells the story:
In 1903, Julius Neubranner designed a tiny breast-mounted camera for carrier pigeons. The camera could be set to take automatic exposures at 30-second intervals as the pigeon flew along. The flight path was not always reliable, however! Mostly used for military purposes, the birds were introduced at the 1909 Dresden International Photographic Exhibition, where postcards of aerial photographs taken above the exhibition were very popular with the public.
My oh my how far we've come.
The Sewer District uses GIS technology to map its own sewer system, the regional stream network, track our vehicle fleet, and much more.
Updated 2014 11/18 • Thanks to our GIS Analyst Eric Baker for the link.