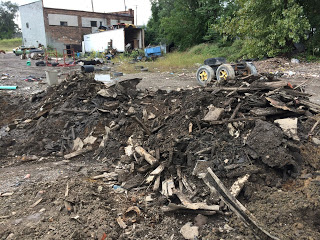 NEWS: Central neighborhood brownfields go green with Sewer District project
Sewer District awarded $400,000 in clean-up funds to help with Green Infrastructure project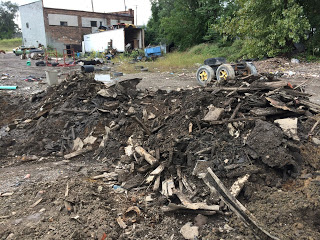 Contaminated land like this between Woodland Ave. and
Kinsman Rd. will be remediated to make way for a green
infrastructure project.
The Northeast Ohio Regional Sewer District has been awarded $400,000 from the US Environmental Protection Agency to clean up two brownfields in Cleveland's Central Neighborhood.
Two properties located between Woodland Avenue and Kinsman Road near E. 65th Street, polluted with thousands of cubic yards of industrial waste atop contaminated soils, will be remediated to make way for the Sewer District's Woodland Central Green Infrastructure Project.
The Sewer District applied for two Brownfields Cleanup Grants, each with a maximum award of $200,000. Awarded monies will help defray the total cost for site cleanup; estimated remediation costs are $1.2 million for these properties alone. Cleanup activities will include site preparation and restoration, removal and separation of solid waste, transportation and disposal of trash as well as backfilling of the site.
"We are extremely pleased about receiving these grants and grateful to our congressional delegation for supporting our applications," said Julius Ciaccia CEO of the Northeast Ohio Regional Sewer District.

"In addition to controlling combined sewer overflows and protecting Lake Erie, an important benefit of our Green Infrastructure Program is the revitalization and repurposing of Cleveland's legacy Brownfields. This grant enables the Sewer District to implement green infrastructure that turns what was once an eyesore and a potential health risk into an amenity for the community and an asset for Lake Erie."

The Central Neighborhood is one of Cleveland's oldest neighborhoods; however, 84.7 percent of today's population is considered low income. The Woodland Central Green Infrastructure Project will provide community, environmental and financial benefits to this community. The Sewer District is working with several community partners on this project, including Burton Bell Carr Development Corporation, the City of Cleveland, Cuyahoga Metropolitan Housing Authority and Environmental Health Watch, as well as local churches and businesses.
"NEORSD has been an outstanding community partner in their interest to maximize the community benefits of their combined sewer overflow reduction efforts. Seeking and securing this brownfield remediation grant is just another example of their commitment to have broader community impact," said Tim Tramble, Executive Director, Burton Bell Call Development Corporation.
"The resulting green infrastructure installation will actualize a key component of the neighborhood master plan, converting two blighted areas of the community into assets of attraction."
The Sewer District's Woodland Central Green Infrastructure Project includes new catch basins and separate storm sewers designed to direct stormwater into two on-site green infrastructure features. The green infrastructure will manage the stormwater and redirect it into Kingsbury Run, fully removing the water from the combined sewer system. This site will not only create 15.6 acres of greenspace, but eliminate 14.3 million gallons of combined sewer overflow annually.
Most of Cleveland includes combined sewers that carry combined sewage—a mixture of sanitary sewage and stormwater—and transport it to a wastewater treatment plant. During heavy rains, these sewers become overloaded with additional stormwater. As a result, combined sewage is released into the environment. The Sewer District is working on a $3 billion infrastructure improvement program to drastically reduce the amount of combined sewer overflows, or CSOs, each year.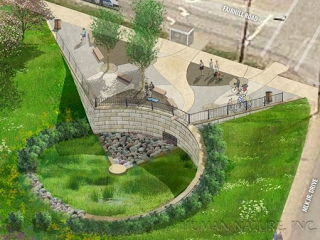 Green Infrastructure being constructed at Fairhill and MLK
One way to reduce CSOs is by implementing green infrastructure. This includes a range of stormwater control measures (bioretention, raingardens, pervious pavement) to store, evapotranspirate, or otherwise remove stormwater and reduce flows to the combined sewer system.
The two Brownfields Cleanup Grants are for parcels previously under investigation by the Cuyahoga County Environmental Crimes Task Force; the prior property owner has been charged with several misdemeanor and felony counts, including air pollution violations, open dumping and animal cruelty.
"Green Infrastructure is the best opportunity to redevelop this site," said Kyle Dreyfuss-Wells, Deputy Director of Watershed Programs. "We stepped up to not only solve our region's combined sewer problem, but use green infrastructure to transform a contaminated brownfield into a neighborhood amenity." The Sewer District plans to apply for additional grant funding for cleanup on adjacent parcels associated with the green infrastructure project.
Cuyahoga County also received a Brownfields Remediation Grant for site assessment.