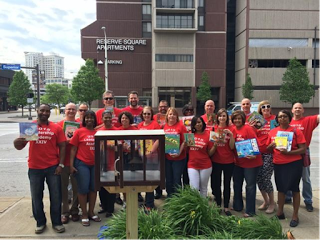 COMMUNITY: Leadership and love of learning inspire little free library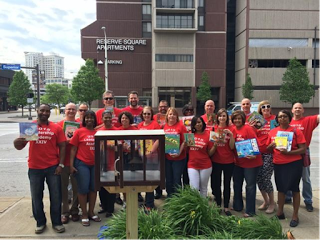 Every little bit of reading helps, and every little free library helps a lot.
Today, members of Cleveland State University's Leadership Academy XXIV dedicated a Little Free Library at 1299 Superior Avenue in Cleveland.
"Exposure to reading at a young age heightens the desire to learn and the mind's amazing ability to absorb information," said Ava Decembly (CMHA), Distinguished Fellow, Leadership Academy XXIV. "This establishes a firm foundation to build upon, thereby increasing one's odds of future success."
Leadership Academy includes a diverse team of public sector employees from many local organizations including Northeast Ohio Regional Sewer District, Cuyahoga Metropolitan Housing Authority, Cuyahoga County, Greater Cleveland Regional Transit Authority, Village of South Russell, City of Shaker Heights, Cuyahoga County, City of Avon Lake, Cleveland Public Library, City of Brooklyn, Northeast Ohio Areawide Coordinating Agency and Alcohol, Drug Addiction and Mental Health Services.
Five @neorsd employees participated in this year's Leadership Academy class.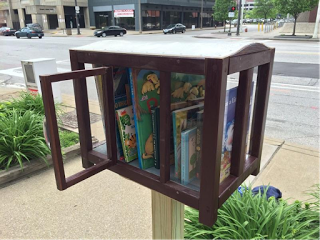 "I have two young children who are avid readers and a natural lust for learning through the written word," said Christian Maier (City of Shaker Heights), who built Leadership Academy's library. "It was my hope when building the LFL that other children would be provided an additional resource to experience the joy of books."
Residents wanting to donate new or gently used books can drop them off at the Northeast Ohio Regional Sewer District's Administration Building at 3900 Euclid Avenue (attention Jenn Elting) or deliver them to any Little Free Library in the Greater Cleveland area. A list of libraries is available online at littlefreelibrary.org or by contacting clelittlefreelibrary@gmail.com.
About CSU Leadership Academy
Cleveland State University's Center for Leadership Development's Leadership Academy is the premier leadership development program for public sector employees in Northeast Ohio. Celebrating 24 years and over 500 graduates, our program is designed to encompass topics in leadership as well as personal and organizational development. Participants will meet in a variety of locations showcasing employers and institutions throughout the Cleveland area.
Leadership Academy topics include Personal and Team Development, What Makes the Public Sector Unique, Community Development, Operations Management, Media Relations and Crisis Communications, Policy Analysis and Executive Presence.
About Little Free Library
Little Free Libraries themselves are hand-crafted structures that contain constantly changing collections of books donated and shared by people of all ages and backgrounds. Most Little Free Libraries are placed in front yards, parks, gardens and easily accessible locations. The Libraries are built to withstand weather of all kinds and hold 20-100 books. Some Libraries are located in coffee shops, in or near restaurants and community centers.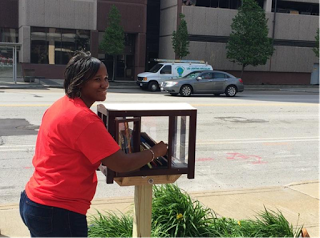 Originally designed to look like a one-room school or a "house of books," the Libraries rapidly took on a wide variety of sizes, shapes, themes and other attributes. There is no standard size and shape. Although many businesses and apartments may have had "take a book, leave a book" shelves for years, the idea of a network of unique structure with stewards, signage and social support began in 2010.
To be officially called a Little Free Library, a free book exchange must have an official sign, number and/or listing on the Little Free Library Map of the World. More Libraries are being registered every day.