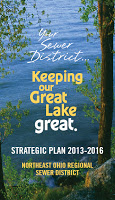 NEWS: Customer service, partnerships are foundation of our new four-year plan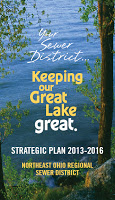 The Sewer District has completed a new Strategic Plan for 2013-2016. Our devotion to enhancing quality of life in the region and protecting its water resources remains the core function of the organization, and customer service and community partnerships will be critical as we move through the next four years.
The Strategic Plan outlines five areas of strategic focus: Operational Excellence, Fiscal Responsibility, Customer Service, Community Partnerships, and Organization and Employee Effectiveness. The goal of the plan is to chart a course towards leading the region as the premier environmental organization protecting our waterways.