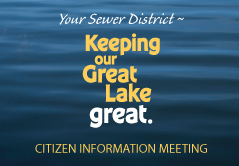 Public meeting series begins April 5 to present rate, project details
The Sewer District will present a series of meetings beginning in April to share project information, as well as rate and affordability program details, across our service area. All meetings are open to the public, and times and locations are listed after the jump.
Your Sewer District: Keeping our Great Lake great.
CITIZEN INFORMATION MEETING
General information about the Sewer District, current projects, rates, programs, and question-and-answer
Tuesday 4/5 | 6-7:30 p.m. This meeting has been canceled and will be rescheduled
Northeast Ohio Regional Sewer District administration building


RATE INFORMATION MEETINGS
These meetings will present details on the proposed 2012-2016 rate schedule and affordability programs.

Wednesday 4/6 | 7-8:30 p.m.
Maple Heights Public Library
Monday 4/11 | 7-8:30 p.m.
Beachwood Recreation Center
Tuesday 4/19 | 7-8:30 p.m.
Barlow Community Center, Hudson
Tuesday 4/26 | 7-8:30 p.m.
Gunning Park Recreation Center
Wednesday 5/4 | 7-8:30 p.m.
Middleburg Heights Community Center
Saturday 5/14 | 9-10:30 a.m.
Easterly Wastewater Treatment Center
We will also offer a tour immediately following the presentation. Long pants and closed-toe shoes will be required.
* Dates and times subject to change. Check our Facebook events page for the latest information.