AWARD: League of American Bicyclists honors NEORSD as Gold-Level Bike Friendly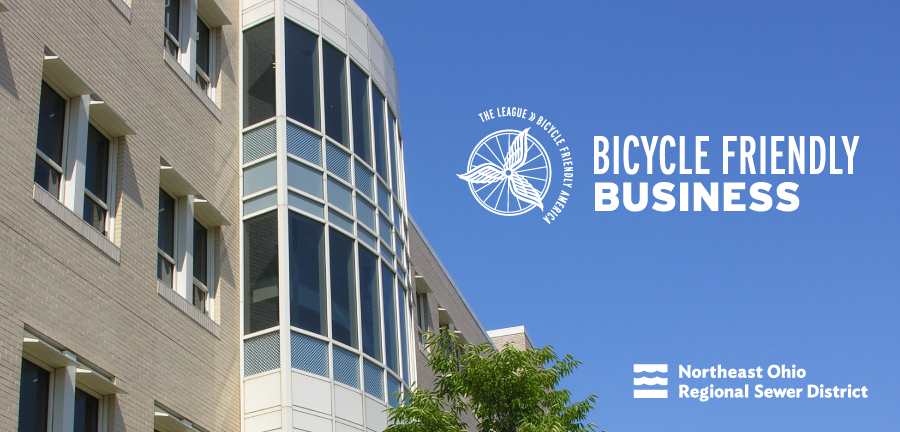 Education, advocacy are keys to the award which highlights a commitment to sustainability, community
We are honored to have our gold-level Bicycle Friendly Business designation renewed by the League of American Bicyclists. Earlier this year, With the help of external partners such as Bike Cleveland, we join more than 1,400 current bike-friendly businesses across the country, all united in a commitment to transform American workplaces to be more welcoming to customers and employees who bike. Across the state of Ohio, we are one of nine businesses to receive the Gold ranking.
Since our initial application in 2017, we implemented new changes, finished several improvement projects, and continued to advocate and offer resources to employees to enhance access to and enthusiasm for cycling.
Among our enhancements, we increased the number of bike racks and installed two Dero bike repair stations, hosted learning sessions for employees, and worked on several rehabilitation projects – with multiple municipalities – that invested in bike lanes, green infrastructure, and pedestrian amenities across the city (including Fleet Avenue and nearby Slavic Village, Fairhill/MLK, Public Square, and our Buckeye Green Infrastructure Site.
We are also piloting a sustainability checklist for construction projects that evaluate community connectivity highlighting opportunities for cycling and pedestrian-friendly infrastructure.
Learn more about the League's Bicycle Friendly Business program at bikeleague.org/business.