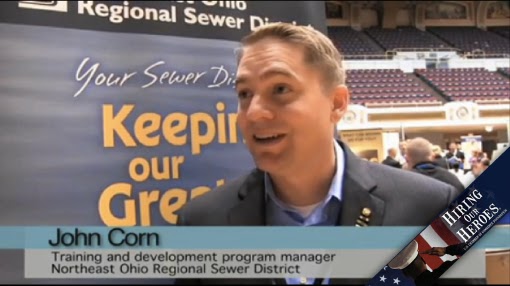 CAREERS: Commitment, service are at the heart of the skills veterans bring to work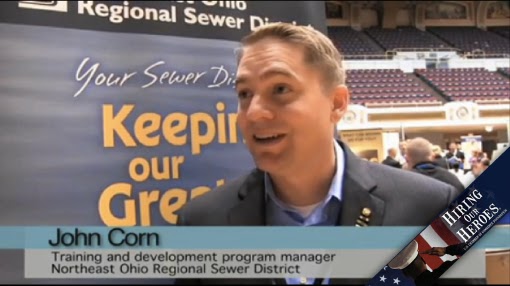 John Corn, a US Navy and Marines veteran and one-year Sewer District employee, recently shared his story in an interview with Crain's Cleveland Business at the U.S. Chamber of Commerce Hiring Our Heroes Job Fair at the Cleveland Public Auditorium on June 26, 2014.
"The most important thing is to take a breath [and] to relax," was John's advice to service men, women and their families who are transitioning to civilian life and into the Northeast Ohio workforce.
As he told Crain's Cleveland Business Sections Editor Amy Ann Stoessel, he understands from experience that reentering the workforce after service can be intimidating, but it is a very reachable goal. "You've got all the confidence on earth. You've done things that most people shudder at the thought of doing. You can do it."
[
WATCH THE VIDEO
]
The Sewer District was a proud participant in the Job Fair, discussing career opportunities with hundreds of participants.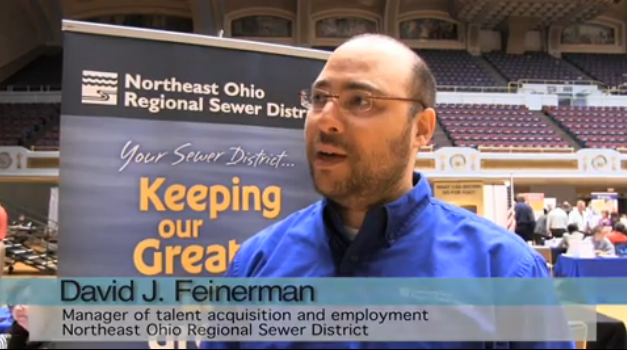 When asked why the Sewer District has such a strong commitment to recruiting and hiring veterans and and active service members, Manager of Talent Acquisition and Employment David Feinerman said, "Veterans bring a really unique skill set and an extraordinary commitment to serving the community, to serving the American way of life; and that's what we do at the Sewer District, as well."
The Sewer District employs professionals in many career fields, including: Accounting and Finance, Customer Service, Government and Public Relations, Health and Safety, Human Resources, Information Technology, Legal, Organizational Development, Engineering and Construction, Facility and Collection System Operation and Maintenance, Public Safety and Security, Scientific and Laboratory, Watershed and Stormwater Management. We also have a comprehensive internship program providing opportunities throughout the calendar year for students and recent college graduates to gain professional experience in one of these career fields of study.
With more than 600 employees and more than 200 different job titles, we may have opportunities to help you put your skills to work.
Log in to our online employment application system where you can search for available career opportunities and find resources to help you with your job search.
If you have any questions or would like to speak with us, please call our employment information line at (216) 432-7300.