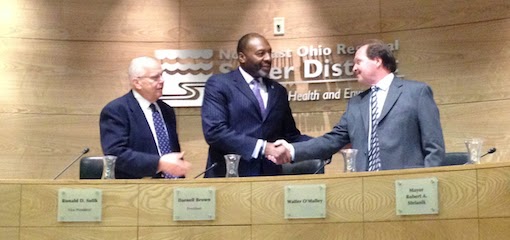 NEWS: Board officers are re-elected for 2014-2015 term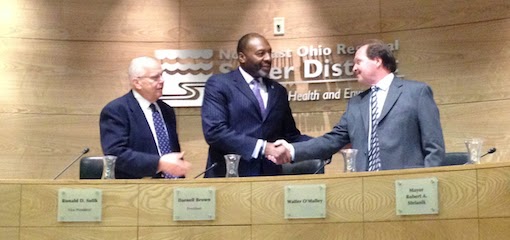 On July 3, the Northeast Ohio Regional Sewer District Board of Trustees re-elected Darnell Brown as President and Ronald D. Sulik as Vice President. The Board has also elected Walter O'Malley as Secretary.
Brown was first appointed to the Board by former Cleveland Mayor Michael White in 2001 and currently serves as Chief Operating Officer for the City of Cleveland. He previously served as Board President 2005-2011.
Sulik previously served on the Board from 1985-1994, was re-appointed in 2002 and most recently served as Vice President for 2010-2014. He represents the Sewer District's 61 suburban communities and has held the positions of President, Vice President and Secretary throughout his 19-year tenure.
O'Malley, current President of IBEW Local 38, was appointed to the Board in 2009 by Cleveland Mayor Frank G. Jackson. He previously served as Acting Secretary, replacing former Secretary Sheila E. Kelly following her retirement in March 2014.
"We've had many important issues in front of us [in the last year]," Brown said. "We'll have many more. We must do our due diligence on green infrastructure, and get closure on stormwater [management]. Those are two key issues for us."
"We want to do all we can to ensure that this agency continues to maintain its national and regional reputations," he added.
Board appointees serve five-year terms and the complete list of Board Members is available online.