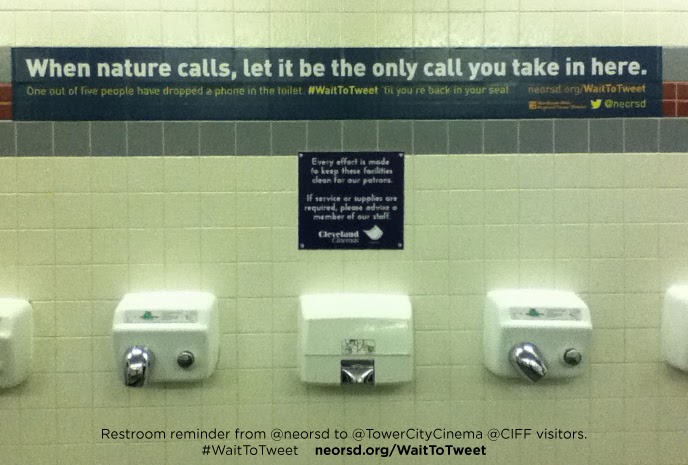 #CIFF38: Silence your phones during the movie, and don't tweet from the bathroom.
@CIFF @wallywaterdrop gr8 partnerships yield gr8 results (& dry phones) Ty @neorsd for sponsoring gr8est film fest pic.twitter.com/v7VvJwSDL5
— joecimperman (@joecimperman) April 11, 2013
The Cleveland International Film Festival returns today, and with 93,000+ admissions last year, we know all sorts of eyes will be focused on our city—and thousands of visitors will be making bathroom breaks between flicks.
That means "Lights, camera, action!" when it comes to some clean-water communication.
This is the third year we are sponsoring the CIFF, branding restrooms and stalls at Tower City Cinemas to help educate visitors in the form of a public service announcement.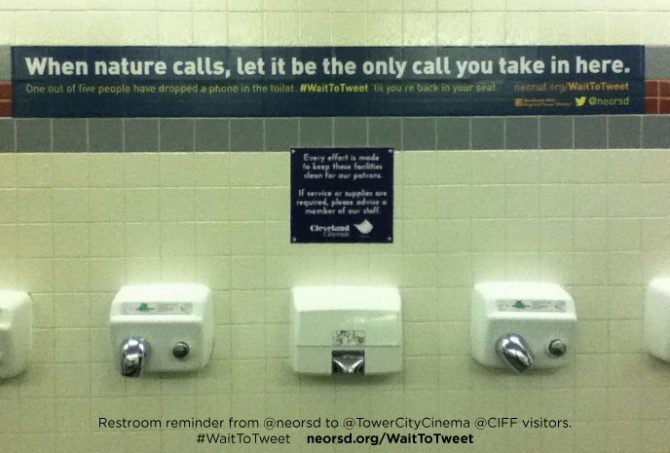 #WaitToTweet made its debut at last year's CIFF and the message remains the same this year: We remind people that dropping a phone in the toilet is an all-too-common occurrence, and we suggest people think twice before tweeting from the stall. The message connects guests' everyday actions with the everyday work of wastewater treatment that rarely crosses minds.