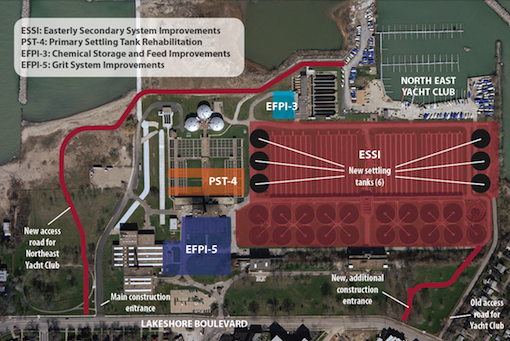 NEWS: Multi-year project will expand treatment capacity by 70 million gallons
In 2013, Lakeshore Boulevard residents and passers-by witnessed a significant amount of construction activity related to our Project Clean Lake consent decree.
The commotion will not end anytime soon. Several new projects at Easterly begin this month, "as soon as the weather breaks," according to Construction Program Manager Doug Gabriel.
The largest of these projects are the Easterly Secondary System Improvements (ESSI, red area on map above). To increase the plant's capacity for processing wastewater—from 330 million gallons per day to 400 million gallons—six additional settling tanks will be installed, seen as black circles on the map.
Gabriel estimates that thousands of truckloads of excavated dirt and rock will be removed from Easterly to make room for concrete pads that will support the new tanks. (There is no additional room on site to dump the excavated material).
A groundwater cut-off wall will be constructed along the east and north sides of the plant to prevent lake water from impacting the excavation. The excavation and truck hauling will kick up a lot of dust, and this will necessitate all-day road cleaning along Lakeshore Boulevard.
Here are several slides from a March 18 community presentation that offer some project details.
OTHER PROJECTS ON SITE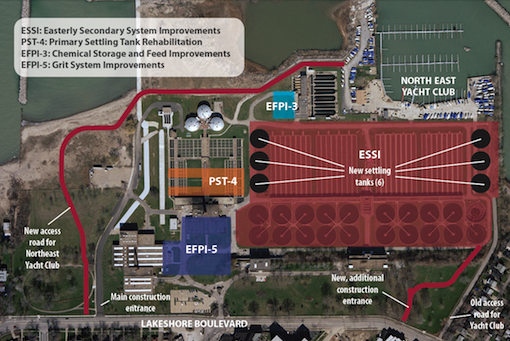 Click to enlarge.
Other projects also underway this Spring include Grit System Improvements (EFPI-5, dark blue area on map at left), Primary Settling Tank Rehabilitation (PST-4, orange area on map) and Chemical Storage and Feed Improvements (EFPI-3, light blue area on map).
NEW ACCESS ROADS
The North East Yacht Club, which sits at the Northeast corner of Easterly, currently is accessed by a road that runs adjacent to the east side of the plant. Because construction will prohibit use of that road, the Yacht Club will use a new access road that runs along the northwestern corner of Easterly and terminates at Lakeshore Boulevard, adjacent to the plant's Construction Entrance.
A second Construction Entrance will run from the southeast corner of the plant to Lakeshore Boulevard. This will allow additional access for construction crews.
SCHEDULE AND COST
Construction at Easterly will continue through 2019. The total cost of these projects is $200 million.
ABOUT PROJECT CLEAN LAKE
During heavy rains, there is a dramatic increase of water flowing through the sewers. Some of the combined wastewater and stormwater is allowed to overflow into area waterways to prevent urban flooding. This combined sewer overflow, or "CSO," harms our environment.
To reduce CSO and meet EPA mandates, the Northeast Ohio Regional Sewer District is overseeing several construction projects that will ultimately reduce the amount of untreated wastewater that discharges into Lake Erie. These projects will ensure a cleaner environment for your neighborhood and Greater Cleveland.
— Michael Uva, Communications Specialist