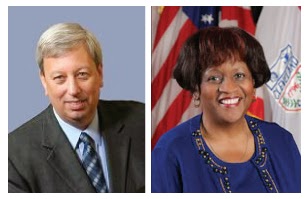 NEWS: Mayor Robert Stefanik, Sharon Dumas appointed to Board of Trustees, will be sworn in March 6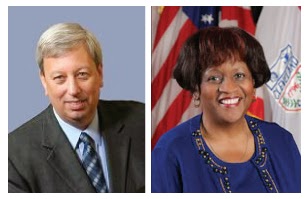 Mayor of North Royalton Robert A. Stefanik and Sharon A. Dumas, Director of Finance for the City of Cleveland, have been named to our Board of Trustees.
Mayor Stefanik was elected by the Suburban Council of Governments and Ms. Dumas was appointed by Frank G. Jackson, Mayor of Cleveland.
These changes are effective March 6, when both are sworn in prior to the Board meeting.
Robert Stefanik was elected Mayor of The City of North Royalton in 2007 and re-elected in 2011. Mayor Stefanik previously served as North Royalton Council President and Ward 6 Councilman. He is currently an active member of the Cuyahoga County Mayors and Managers Association and the Northeast Ohio Mayors and City Managers.
Mayor Stefanik succeeds Gary W. Starr, Mayor of Middleburg Heights.
Mayor Starr was elected by the Suburban Council of Governments in 1994
and re-elected to three additional terms, serving as Sewer District
Board President, Vice President and Secretary during his tenure.
Sharon A. Dumas has more than 25 years of private and public sector fiscal management experience. As Director of Finance, Dumas is responsible for the City's $1.1 billion budget which includes the major enterprise operations of Cleveland Hopkins Airport, Cleveland Water Department and Cleveland Public Power.
Ms. Dumas succeeds Sheila J. Kelly, vice president of Villa Realty; Ms. Kelly was appointed by Mayor Michael R.White in 1994 and served four terms as a Sewer District Board Member including the offices of President, Vice President and Secretary during her tenure. Ms. Kelly is credited with spearheading the Sewer District's first ethics policy in 2008 and championing the Business Opportunity Program to assist small businesses and minority- and female-owned companies obtain work at the Sewer District.
"I am glad to welcome Mayor Stefanik and Ms. Dumas to the Sewer District. Both have wealth of experience, which will be important as the Sewer District continues its clean water work," said Executive Director Julius Ciaccia.
"In addition, I would like to thank Mayor Starr and Ms. Kelly for their years of service on the Board. In particular, I appreciated how Ms. Kelly governed with professional dignity at all times no matter how difficult things got."
"I'd like to thank two long-serving Board Members for their service to the Northeast Ohio Regional Sewer District. Sheila Kelly and Mayor Gary Starr have been engaged members of this body who, along with senior staff, guided the organization through many challenging issues," said Darnell Brown, Board of Trustees President. "In addition, I welcome Sharon Dumas and Mayor Stefanik as newly appointed Trustees."
The seven-member Board of Trustees governs the District and is appointed by three different entities: the Mayor of Cleveland appoints three members, the Suburban Council of Governments appoints three and the Cuyahoga County Executive appoints one. Board appointees serve five-year terms.