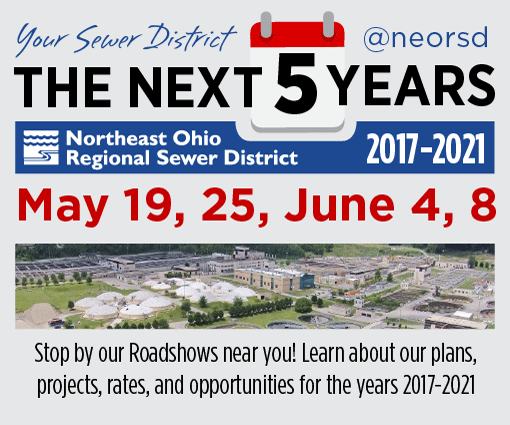 OUTREACH: Educational roadshows coming to a community near you this spring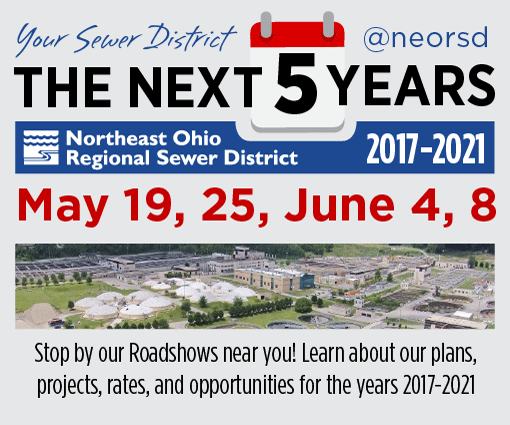 Over the next five years, the Northeast Ohio Regional Sewer District is making a huge investment in Greater Cleveland.
Whether it's tunnels, sewers, pump stations, stormwater solutions or green infrastructure, we are making improvements to keep our Great Lake great.
To help our ratepayers understand what this investment means to them, we will host meetings throughout our 62-community Service Area. Representatives will be available to discuss a variety of topics, including:
All are welcome. UPDATE April 5, 2016: Communication prior today may have included different dates. The information below is the latest.
Thursday, May 19
Nordonia High School
5:00-7:00 p.m.
8006 South Bedford Road
Macedonia
Wednesday, May 25
Tri-C West Campus
5:00-7:00 p.m.
11000 Pleasant Valley Road
Parma, Ohio 44130
B Atrium in Building B
Saturday, June 4
Tri-C East Campus
9:00 a.m.-Noon
4250 Richmond Road
Highland Hills, Ohio 44122
Student Services Building / Presidents Plaza
Wednesday, June 8
Tri-C Metro Campus
5:00-7:00 p.m.
Jerry Sue Thornton Center
2500 East 22nd Street
Cleveland, Ohio 44115
Ford Room
VIDEO: How are rates determined? / Download a PDF