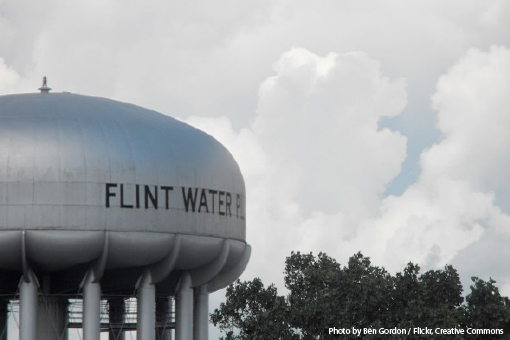 FLINT: Health, trust, and funding in the wake of Flint's water crisis
Three issues are critical to the future of clean water systems, Sewer District fully supports Value of Water Coalition guidelines for sustainable future
If Charleston and Toledo were water-quality wake-up calls, Flint is the living nightmare for residents, officials, and the entire country.
The 2014 Elk River chemical spill in Charleston, West Virginia and the 2014 toxic algae outbreak near Toledo, Ohio represented the dangers of taking water-resource protection for granted. As Flint, Michigan residents now rely on bottled water while the safety of and trust in the city's infrastructure must be restored, the painful reality is one that is decades in the making.
"Drinking water and wastewater utilities systems do and must protect not only the water resources, but the people that rely upon them," said Julius Ciaccia, Chief Executive Officer of the Northeast Ohio Regional Sewer District.
"We must work together to ensure infrastructure can be safe, trusted, and affordable for future generations."
In response to the Flint, Michigan water crisis, the Value of Water Coalition, a collaboration consisting of private and public water agencies—including the Northeast Ohio Regional Sewer District—as well as several other stakeholders, recently released a set of guidelines to ensure a sustainable water future for all. Those guidelines, fully supported by the Sewer District, include:
Invest in water infrastructure renewal to ensure public health and safety

We must appreciate the true value of water and renew a commitment to co-investment in infrastructure by water providers and local, state, and federal governments.

Take a long-term view in making water decisions and build a partnership with the public

Demonstrating that decisions are made with residents' health and safety first, and building public trust, are all critical to securing our nation's water future.

Build a water safety net

While national low-income assistance programs exist for some utilities, there is no equivalent program for water. We must work together as a nation to ensure everyone in this country has safe and reliable water service.
"In a short two-year period, the crises in three communities—Charleston, West Virginia, Toledo, Ohio and Flint, Michigan—have demonstrated the need to prioritize and to make smart, thoughtful investments in water and wastewater infrastructure," said Ciaccia. "The value of maintaining and updating water and wastewater infrastructure, particularly as it relates to public health, economic vitality and environmental stewardship, cannot be overstated."
Over the past four decades, the Sewer District has invested over $4 billion in the region's sewer system, including enhancements at its three wastewater treatment plants—Westerly, Easterly and Southerly—and the construction of large interceptor sewers, which are the highways of the sewer system, and carry sewage from communities to the treatment plants.
The most recent investment is Project Clean Lake, a 25-year capital plan designed to reduce the amount of raw sewage discharged into local waterways from 4.5 billion gallons to 500 million gallons by 2036. Through smart and fiscally sound decision making in its first five years, the once $3 billion program is now a $2.4 billion program, but the environmental and public healthy impact remains the same: Less pollution in Lake Erie, Greater Cleveland's source for safe drinking water.
"The Sewer District has a 40-year history of continually investing in the region's sewer system and, when it comes to proactively facing sewer infrastructure issues, we have seen, first-hand, the benefits of staying the course," said Ciaccia.
"Undoubtedly, though, sewer construction comes with a cost. But if we ignore our water and sewer infrastructure, some of which is over 100 years old, customers today and generations to come will pay in other ways—degradation of our waterways and existing sewer infrastructure, jeopardizing public health and the environment, the consequences are both real and painful."
As the Sewer District continues a rate study to help determine the 2017-2021 fees for sewer service, officials understand smart investments in infrastructure ensure public health and safety. But increases are more than some customers can bear. We will not defer critical improvements and maintenance at the cost of public safety; rather, we are advocating for a low-income water assistance program that will help customers who need it most.
"Evaluating affordability is a priority for the Sewer District, and our commitment to this issue is reflected in our current rate study," said Jennifer Demmerle, Chief Financial Officer for the Sewer District. "It will thoroughly define affordability; identify those who are unable to afford sewer rates; and develop program to assist those who are unable to pay, so that we have a stronger fiscal foundation as we move ahead with these important public health and environmentally beneficial sewer projects."