PIC: Sweet home Milwaukee? Trash boat has best name ever.
OK, so Milwaukee Metropolitan Sewerage District has the best boat name ever.
Since 2012, Milwaukee's canals and rivers have been maintained with a skimming boat named the Lynyrd Skymmr.
Lynyrd Skymmr.
Worth noting today since it was on this day back in 1973 that Lynyrd Skynyrd played in Ohio, just down the road at E. J. Thomas Hall in Akron.

What's
the Skymmr have to do with us? Well, enough to make a blog post
worthwhile. Rather than a boat, we use netting facilities to help catch
debris along several waterways in our service area. They're like large
nets stretched across a stream that pull in floating trash, doing most
of their work near combined sewer overflow outfalls after storms.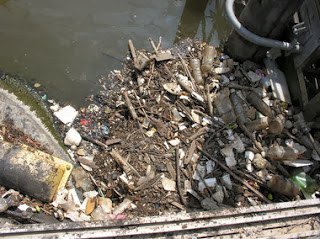 In an average year, our 10 netting facilities capture about 30 tons of floating debris that would otherwise have ended up in Lake Erie.