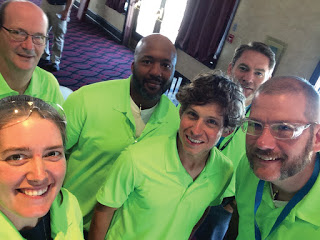 PROFILES: Operations team's top finish at state competition carries them to nationals this fall
Front: Christen Wood, Doug Dietzel, Dan Valek.
Back: Karl Ellis, Jimmy Spencer, John Corn.
New Orleans, here we come.
In June, the District's Operations Challenge team competed at the Ohio Water Environment Association (OWEA) competition in Aurora, Ohio, and their top finish guaranteed them a spot at national competition in the Big Easy this fall.
Ops Challenges are held across the nation, and consist of five main events in the areas of Maintenance, Collections, Safety, Laboratory, and Process Control. Accuracy and speed are key to winning.
Our team—Christen Wood, Doug Dietzel, Karl Ellis, Dan Valek, and Jimmy Spencer, led by John Corn—took first place in Division II, first place in the Process Control event, and third place overall. They will represent OWEA in Division II of the national event at the Water Environment Federation Technical Exhibition and Conference (WEFTEC) in New Orleans this September.
"This is the first time in about 20 years that the District has participated in the Ops Challenge," said Unit Process Manager Christen Wood. "I saw the dedication required and the skills demonstrated and wanted to be a part of it.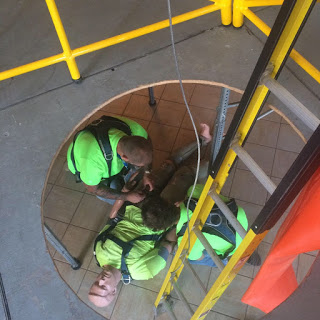 "I heard from at least three OWEA reps and a WEF rep how pleased they were that the District is back in the Challenge," said Operation & Maintenance Deputy Director Frank Foley.
John Corn explained how this type of competition goes hand-in-hand with the District's training programs. "It creates cohorts who can learn best practices across the industry and incorporate it into work," he said.
"To win, you can't be good at just one thing," explained Wood. "The lab people need to learn Maintenance, for example. Being able to leverage those differences makes the whole team stronger, and you're learning things you wouldn't normally come across in your job."
"Events like this enhance the overall skill level of our staff," said Corn. "We're maximizing our capabilities and level of service to our customers."
RELATED NEWS:
Michael Uva, Senior Communications Specialist