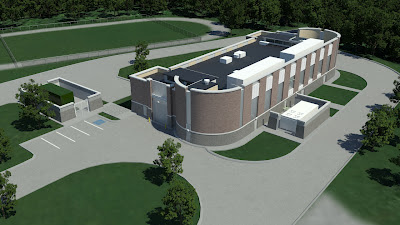 PROJECTS: Glimpse of pump station at Bratenahl site [Architect rendering]
If you're driving east on I-90 and pass the construction to your right just before the Lakeshore Boulevard exit, you'll see a clearing and a massive amount of construction. That's the site of several Sewer District projects, including a huge tunnel shaft, electrical substation, and a new pump station, all designed to help reduce pollution in Lake Erie.
The Euclid Creek Tunnel is well underway, as is the substation which will power an enormous tunnel boring machine at the site starting this summer, but the latest project to roll out is known as the Tunnel Dewatering Pump Station, shown in the renderings below.
While the building itself will be visible from I-90 traffic, the biggest parts of the construction will be hidden entirely as the pump rooms will be constructed 240 feet underground, as seen in the last rendering below.
Construction began in January and is expected to continue through 2015.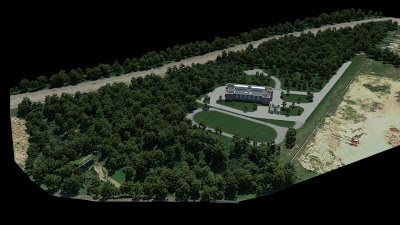 Aerial rendering facing north. I-90 is visible at the top of the image.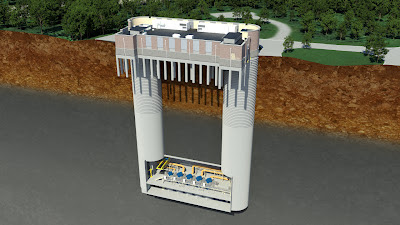 The pumps will be constructed about 240 feet underground. They will be used to empty three storage tunnels systems in the Easterly plant service area so the flow may be fully treated.