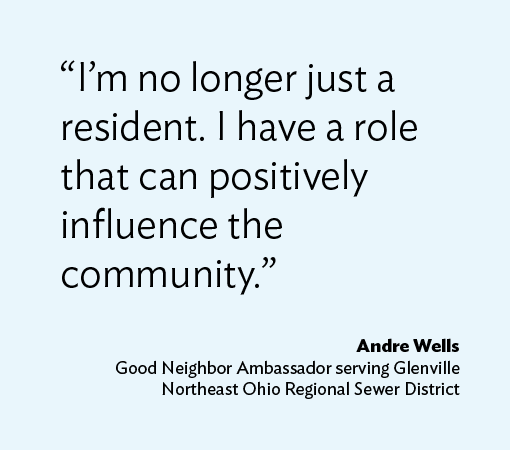 PROFILES: "I feel privileged to be a part of this program." Meet the second class of Good Neighbor Ambassadors
Good Neighbor Ambassadors work as liaisons between the Sewer District, various community and business organizations, and the general public.
The focus of this second class of Ambassadors is to address concerns of residents in the Glenville area during Project Clean Lake's Dugway Storage Tunnel construction. [See a full map of Dugway construction through 2019 planned or in progress]
They will also help install seasonal "high tunnel" greenhouses for growing crops and, in partnership with Cleveland Public Library, they will create reading gardens in the community.
Here's a little more about the latest class that started with us this spring.
Andre Wells
Andre grew up in the Glenville area and played Cleveland Muny League football at Glenville High School. He's enthusiastic about having a larger role in the community. "I'm no longer just a resident," Wells said.
"I have a role that can positively influence the community." He also expressed his gratitude for what our program offers. "I can get training, go back to school, and get tuition reimbursement. I want to take full advantage of every opportunity given to me."



Taylor Miller
As a Glenville resident, Taylor has seen the impact of construction on the neighborhood. Her curiosity about the construction and her interest in wastewater management led her to attend a Dugway Project community meeting. There she learned about the Good Neighbor program, and also saw how many people, like herself, had questions about the project.
"I feel privileged to be a part of this program, helping my community understand what is happening in our neighborhood," Miller said.


Ronald Moss
Ronald has lived in the Glenville area for 25 years. In some ways, he said, "it went from being a community to just a neighborhood. Since I live in the area I feel it's part of my responsibility to work to improve it."
Ronald went on to express his gratitude for the unique opportunity the Good Neighbor program offers. "I get to better myself while helping the people in my community."
Ramone Smith
Ramone moved into the Glenville area at a young age and witnessed the transition from abandoned buildings to new homes. "I saw the difference and it made the neighborhood feel different," he said. Since that experience, he has taken an interest in the well-being of the neighborhood.
In his past employment, Ramone participated in a lot of community events, but he felt like he was working behind the scenes. "As a Good Neighbor Ambassador, I feel that I can be hands-on in changing the community for the better. I have a 10-year-old daughter and feel that the things I do now will impact her life and her generation."
Kevin Drake
Kevin, a Glenville resident, was excited to join the Ambassadors. "I'm thankful for the opportunities the program offers, to be able to go back to school and further my education," Drake said. He plans to utilize the program's training to help him on his career path. He's also looking forward to working in his neighborhood. "I'm glad we're there to show them that we're helping bring back the community."
—Communications Specialist Yolanda Kelly