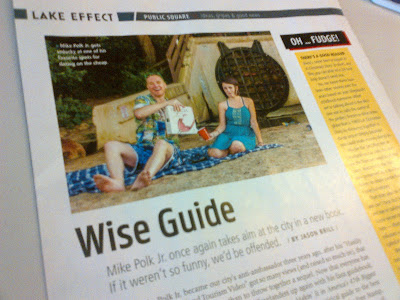 FUNNY: Hastily made blog entry about Edgewater Beach and Mike Polk, Jr.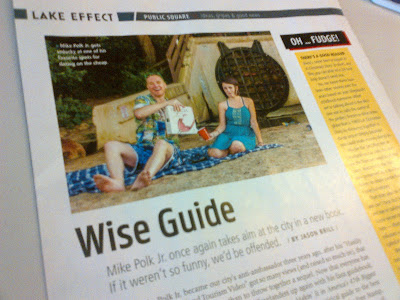 Based on this photo of comedian Mike Polk, Jr.'s date-night ideas,
CSO might stand for a "Cleveland Saturday out."
UPDATE: The Plain Dealer's Tipoff column shared this post with
Mike, and we're flattered he got a kick out of it. While his Cuyahoga
County reference is misstated, the tour offer still stands, hard hats
and all.
So this summer, we got some attention on the Alan Cox Show. Now we're getting Cleveland Magazine press time thanks to comedian Mike Polk, Jr.
OK, so it wasn't Northeast Ohio Regional Sewer District kudos, but yet another poke at pollution at Edgewater Beach and Polk's Cleveland-date-nights-on-the-cheap. (Love is in the air… Wait, that's not love…).
The November issue of Cleveland Magazine gave a write-up for Polk's new book, which features Edgewater Beach—along with its combined sewer overflow (CSO, the large flap gate you see behind him and his date) and reputation—as an idea for "Cleveland dating on the cheap:" In his words:
If you go on a date to Edgewater Beach, you come back wit several rashes, and that makes getting intimate that much more difficult."
We won't speak to intimacy, but rest assured, Mike. Just as we told Alan Cox, we're working to reduce pollution at places like Edgewater Beach thanks to Project Clean Lake. Think of it as our way of reducing "trash and rash"—fewer overflows of pollution to the environment means cleaner beaches. And this outfall at Edgewater opens less than one time per year, but even that is more than we want, so we're working to do even better. Just sayin'.
So enjoy your nights out at Cleveland establishments. And Mike, you could always add "wastewater treatment plant tour" to your list of chap date nights. We'll even give you and your guest primary treatment.