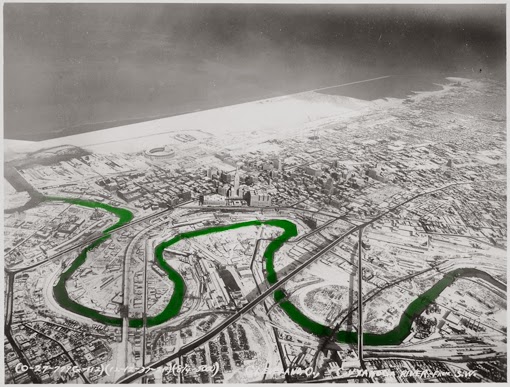 GREEN: St. Patrick's Day and 5 stories of green with Cuyahoga River connections
Our mighty Cuyahoga has never received the full Chicago River green-dye treatment, but it has some green tales to tell.
Here are five interesting stories you may not have heard.
5. The Cuyahoga River was dyed green in 2008. Mysteriously.
In January of that year, the City of Akron discovered a green dye in the Cuyahoga River near their wastewater treatment plant. The plant said they were not responsible for the dye, and the Ohio Environmental Protection Agency investigated the discovery. No information was available about the official source of the dye.
4. The Rocky River was dyed green to track a polluter.
In 2012, cyanide was illegally dumped into a storm sewer that discharged into the Rocky River, killing thousands of fish. We assisted in the investigation which resulted in an indictment. During the investigation, we used an eco-friendly green dye to trace the route of the storm sewers in the area where the cyanide originated.
3. Green in Lake Erie has many concerned for its future.
Algae levels in our Great Lake have been on the rise in recent years, rising because of higher volumes of phosphorous entering our waterways from runoff. Many state, regional and international agencies are exploring ways to curb the use of chemicals contributing to the problem, and the Sewer District is participating in the discussion.
2. Green is good when it comes to stormwater control.
Green infrastructure is a topic of great discussion, one we were proud to advance in 2010. That year, our 25-year consent decree known as Project Clean Lake was signed with two very important green-infrastructure components:
1. Cleveland may be greener than you think.
Did you know there are at least 78 green-infrastructure projects in the works or in planning phases across Cleveland right now?
Our Great Lake and streams face many challenges, and as we work to increase the good green and decrease the bad, St. Patrick's Day reminds us that it will take more than the luck o' the Irish to be successful on both fronts.