NEWS: Euclid Creek Tunnel completed $3.6 million under budget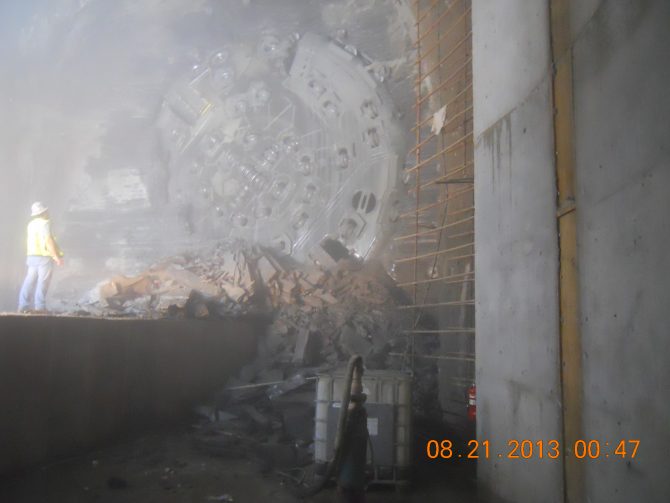 First tunnel under Project Clean Lake now complete, sets benchmark for future cost-saving opportunities
Today, the Northeast Ohio Regional Sewer District's Board of Trustees passed Resolution 238-15, a Final Adjusting Change Order, for the Euclid Creek Tunnel. As a result of outstanding project management, this contract will close $3,602,637.77 under budget.
The Euclid Creek Tunnel, originally a $198 million project, is the first in a series of storage tunnels constructed as a part of Project Clean Lake, the Sewer District's 25-year, $3 billion program to drastically reduce the amount of combined sewage entering local waterways annually.
"Our engineering and construction team worked diligently to complete this project under budget," said Kellie Rotunno, Chief Operating Officer, "The Euclid Creek Tunnel sets a new financial benchmark as we continue to identify cost-savings and save our customers money."
The Sewer District has already realized $330 million in savings since the inception of Project Clean Lake. This savings has come from value engineering, contract management and a highly competitive bidding environment.
"I am proud of all the accomplishments we've made during my tenure as CEO," said Julius Ciaccia, CEO. "Project Clean Lake is one of the region's largest infrastructure investments and this tunnel system will keep hundreds of millions of gallons of combined sewage out of Lake Erie each year."
Nearly 20 percent (19.65%) of this contract was awarded to Small Business Enterprise-certified subcontractors; these businesses are all located within a 11-county area including Cuyahoga, Geauga, Jefferson, Lake, Lorain, Mahoning, Medina, Portage, Stark, Summit or Trumbull Counties.
About the Euclid Creek Tunnel
The Euclid Creek Tunnel starts in Bratenahl, south of Interstate 90, and continues northeast to the District's Easterly Wastewater Treatment Plant. There, the tunnel continues under Lake Erie for about 3,000 feet and passes under the shoreline near Green Creek at East 156th Street. The tunnel then heads east, following Lake Shore Boulevard and Nottingham Road, and ends at St. Clair Avenue.  The tunnel will be fully operational upon completion of the Tunnel Dewatering Pump Station in 2016.
The Euclid Creek Tunnel is located 190 to 220 feet below ground. It is 18,000 feet long, with a finished diameter of 24 feet and will have the capacity to hold 61 million gallons of combined stormwater and wastewater. Construction began in 2011 and finished in 2013.
This project garnered several "firsts" for the Sewer District and the tunneling industry:
First in World:
One-pass tunnel excavation/lining process in rock
Utilization of plastic fibers for concrete reinforcement
U.S. Record:
Deepest secant piles with excavation extended beyond tip
To date, this project is the largest completed Sewer District tunnel project. 
About Combined Sewer Overflows (CSOs)
Greater Cleveland's earliest sewers (primarily within the City and its inner-ring suburbs) are combined sewers. Built around the turn of the 19th century, these sewers carry sewage, industrial waste, and stormwater in a single pipe.
During heavy rains, there is a dramatic increase of water flowing through the combined sewers. When this happens, control devices may allow some of the combined wastewater and stormwater to overflow into area waterways—such as Lake Erie and Euclid Creek—to prevent urban flooding. This event is called a combined sewer overflow, or CSO, and harms our clean water environment.