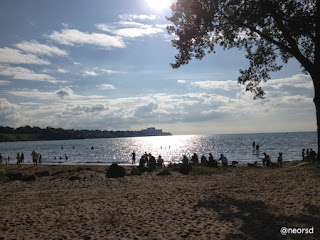 SUMMER: Ready for beach season? So are we, Mass Spectrometer and all.
How new technology and capabilities will help us identify toxic algae in Lake Erie using a recently approved EPA method; Sewer District is the first agency to offer these capabilities in Ohio
Consider this the summer of science.
As our daily beach water-quality testing and notification is set to resume in the coming days, we've added a bit of tech to our monitoring capabilities to better evaluate toxic algae threats with warmer months ahead of us. And that's big news for the entire state of Ohio.
Something old, something new
This week, the Northeast Ohio Regional Sewer District resumes daily beach testing at Edgewater, Villa Angela and Euclid Beaches to predict and determine water quality for public notification. Daily testing will continue through September 10.
The Sewer District increased their monitoring capabilities by investing in a Mass Spectrometer to monitor beach waters for the toxins produced by blue-green algae (cyanobacteria), the same algae that caused the drinking water ban in Toledo last summer. The technology is also capable of analyzing other compounds, like those found in the pharmaceuticals and personal-care products.
"The Sewer District has the first laboratory in the State of Ohio that can offer these analytical capabilities to other entities throughout the state and is the first public utility in Ohio to own this type of instrument," said Sewer District Manager of Analytical Services Mark Citriglia.
"In cases like Toledo, the Sewer District now will be able to assist cities, agencies and other entities in the State of Ohio by providing testing services using newly approved methodology. We plan to have staff available for emergency situations that will be ready to assist if another harmful algal bloom occurs and affects the public water supply or public health."
New this year: Partnership with EPA will provide new data, insight
This year the Sewer District has added to its proactive beach monitoring program by entering into a research project with the U.S. Environmental Protection Agency Office of Research and Development. The Sewer District will provide the US EPA laboratory and field support for a research project involving the cataloging and modeling of indicators of fecal contamination. Samples will be collected from Edgewater Beach, and will be analyzed for various viruses that infect bacteria (bacteriophages).
"The Sewer District's Analytical Services and Water Quality and Industrial Surveillance groups have the expertise, capabilities, and staff to assist the U.S. EPA with the work performed under this project," said Director of Watershed Programs Frank Greenland. "Additionally, the data obtained will complement our current beach monitoring and research efforts."
The Edgewater Beach samples will be collected Sunday through Thursday throughout the study period, which is scheduled from May 15 through August 28, 2015, and will be analyzed at the Sewer District's lab. Additionally, the Sewer District will provide field support by collecting water quality and meteorological data during sample collections.
Water quality: What are the factors?
Many variables can impact the water quality of the beaches, including the presence of waterfowl at the beach, the influence of Lake Erie currents, the fate of pollutants, like raw sewage, discharged into local water bodies, and stormwater run-off, which can carry motor oil, garbage and other pollutants into local water bodies, too.
Beach predictions and public notification
A Nowcast prediction of water quality will be provided each morning by 9:30 a.m., seven days a week. The latest beach water quality information can be found directly on neorsd.org below the left-hand navigation bar starting May 11, or by following the Sewer District's official beach-report Twitter account @NEORSDbeaches for morning predictions every day.
Nowcast prediction signage also will be posted at the entrance of Edgewater, Euclid and Villa Angela Beaches. Beach users who are consulting the Nowcast should be aware that water quality conditions can deteriorate rapidly as a result of storm conditions. The Nowcast program does not account for water quality changes which happen after the morning Nowcast is issued.
"The Sewer District is one of the few agencies in the nation that monitors local water quality on a daily basis," Citriglia said. "Over the years, we've significantly enhanced our research at two local beaches—Euclid and Villa Angela—which, historically, have been prone to high bacteria levels, exceeding EPA standards."
Beach Testing History
The Sewer District has been involved with beach monitoring and research efforts for over the past 20 years, which include:
Extensive sampling projects starting in early May and ending in October
Obtaining funding from the US EPA through the Great Lakes Restoration Initiative (GLRI) for two grants. The grants focused on:

enhancing research efforts on the effectiveness of rapid analytical methods for measuring recreational water quality; and
predictive modeling development and determining the specific factors that contributed to water quality conditions at these beaches

Installing velocity meters at the mouth of Euclid Creek to track the movement of the Euclid Creek discharge plume when it reaches Lake Erie currents
Installing of a stream gauge and water quality meter on Euclid creek to monitor the flow and water quality for Euclid Creek.
Additionally, research efforts and funding from two GLRI grants from 2010 through 2012 have enabled the Sewer District to continue to develop and refine its method for determining the water quality at Edgewater, Villa Angela, and Euclid Beaches. The predictive models over the past two years have utilized a mixture of environmental variables coupled with data generated from a rapid microbial method. These models were able to predict the water quality with an accuracy of greater than 80%.
Improvements, and what to expect in 2015
The laboratory staff anticipates the accuracy of the 2015 predictive equal to or better than the models used in 2011, 2012 and 2013. The use new rapid method allows results to be available in approximately three to four hours compared to 24 hours using conventional methods.
Prior to the adoption of the Nowcast System at Edgewater Beach and Villa Angela Beach, the predictions were based upon Sewer District laboratory results from beach water samples collected and tested the previous day. The then-unavoidable 24-hour delay meant that bacteria levels could have increased or decreased substantially during that period.
The Nowcast System is supported by the Northeast Ohio Regional Sewer District, Cleveland Lakefront State Park, Cleveland Metroparks, Cleveland Department of Public Health, Cuyahoga County Board of Health, Ohio Department of Health, and United States Geological Survey, who has been a major partner in developing the methodology for the Nowcast.