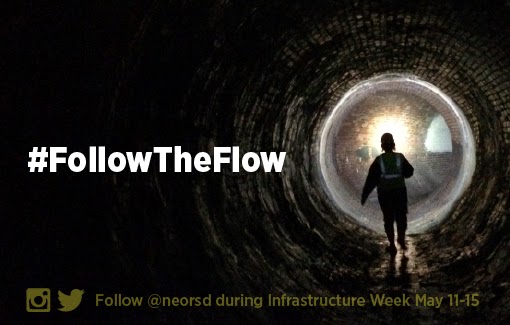 EVENT: Go underground and behind the scenes as we #FollowTheFlow during Infrastructure Week May 11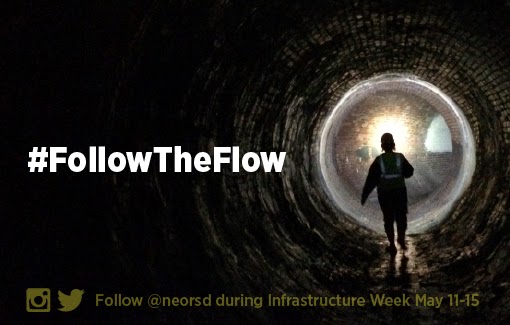 "Go with the flow" has a meaning of its own. "Follow the flow" is going to get a little more interesting.
May 11-15 marks the third year for Infrastructure Week, a national celebration of country's infrastructure systems and the essential role they play in our economy. To celebrate Infrastructure Week 2015, the Northeast Ohio Regional Sewer District is planning a week-long series of behind-the-scenes tours for local media and elected officials, and you can #FollowTheFlow with the Sewer District all Infrastructure Week long and trace wastewater's path from the sewer system to Lake Erie.
Here's what we're planning and we'll be covering it all week long on Twitter, Instagram and Periscope.


Monday, May 11
Sewers 101: Where does it come from and where does it go?
Beneath your feet,
millions of gallons of wastewater are transported daily to one of the
Sewer District's
three wastewater treatment plants
. Although hidden, our
infrastructure works seamlessly to transport this
flow, protecting our clean-water environment.
Tuesday, May 12
200' Deep: Tunnel Dewatering Pump Station
Lowered more than 200 feet below ground, visitors will truly appreciate the considerable size of our projects. This visit sends guests into the large cavern that will eventually hold the Sewer District's
Tunnel Dewatering Pump Station
, capable of pumping 160 million gallons of combined sewage per day.
Wednesday, May 13
Doubling Capacity: Easterly Wastewater Treatment Plant
During heavy rains, not
all wastewater that enters the Sewer District's plants receives full treatment. That's changing. Experience first-hand the impact Project
Clean Lake has on our Easterly Wastewater Treatment Plant, including expansion plans to increase full treatment capacity to 400 million gallons per day.
Thursday, May 14
At the Water's Edge: CSO-069 at Edgewater Beach
In the 1970s and 1980s,
this combined sewer outfall
discharged raw sewage into Lake Erie almost 50 times each year. With the Sewer District's past investments, an overflow occurs just once every couple of years. But, when this happens, it's a big story. What's behind that 9-foot iron gate? Join us and see for yourself.