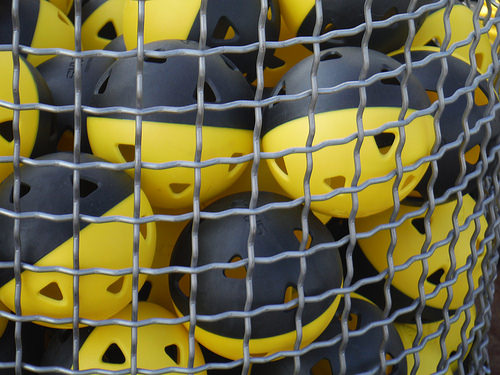 RIVER: Branches, bristles, and balls baskets built for better bulkheads
The latest customized contraptions along the Cuyahoga River bulkheads were added this month to help provide habitat for migrating fish, and the elements used in this phase of the project might surprise you.
Cuyahoga County Planning Commission, with the help of Biohabitats and the Regional Sewer District, installed the iteration of these baskets October 7 along the steel bulkheads of the Cuyahoga River navigation channel. They are intended to provide a safe space for fish migrating up or down the channel, a stretch that is otherwise "daunting," as Biohabitats describes it.
The baskets frames are all the same, but the contents vary between three everyday items:
Sticks. Weathered branches that are commonly found floating on streams after a storm.
Gutter-guard bristles. You know, the plastic-bristled lengths of wire that go in your gutters to keep them free of leaves?
Wiffle balls. Yes, the same ones from backyard-homerun-derby glory.
"36 steel casings," said Watershed Projects Specialist Paul Kovalcik. "All filled with different types of media."
"[They] will remain in the Cuyahoga River throughout the winter and
into next year, and the three types of installations will be monitored
to see which attract algae and other aquatic components needed for
quality fish habitat," says the Planning Commission. Known as biomimicry, the baskets' design is intended to replicate more natural conditions of an aquatic environment.
You can see the full album on Flickr.