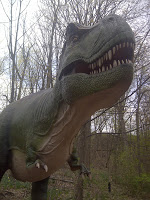 INFOGRAPHIC: Wow, he must have left a Tyrannosaurus mess. #DinoDoo and @clemetzoo's Dinosaurs! exhibit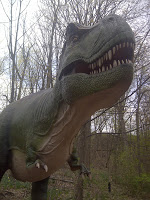 Sure, we have a Pick Up Poop! campaign for your dog, but you'd need a whooooole lot of baggies for droppings this big.
We're excited about our latest educational partnership with the Cleveland Metroparks Zoo and their new Dinosaurs! exhibit that opened last week. And the graphic below is just a part of the outreach we're using to make some of the connections between these thunder lizards' business and ours.
While we love telling fun stories about wastewater treatment and the environment to educate our customers, we love connecting our work to already interesting topics even more. This exhibit is an example of that. Thanks, @clemetzoo. And here's our infographic:
Our relationship with the Cleveland Metroparks Zoo has lasted for several years, including a partnership on their Scoop on Poop exhibit and their assistance finding a new home for an alligator (yes, an alligator) we rescued from Big Creek.