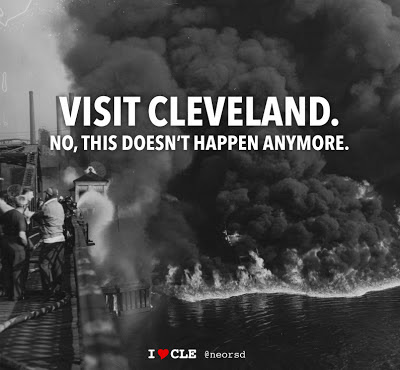 LIST: Wait, people thought Cleveland was bad?
"16 reasons Cleveland is not as bad as you think"? We guess 16 is a fine place to start, but the list could go on and on, and there are a few glaring omissions.
This week, Buzzfeed posted a fun piece with that title, noting examples like Charles Ramsey's heroics, our Millionaire's Row past, homegrown celebs, and 21,000 acres of glorious Cleveland Metroparks.
Plus the Hollywood attention we're getting over the next two months.
All great examples, believe us, but there could have been at least these three others.
Lake Erie.
Lake Erie is the warmest and most biologically productive of the Great Lakes, and the Lake Erie walleye fishery is widely considered the best in the world. The Sewer District treats about 90 billion gallons of water every year to help keep our Great Lake great. Photo: EurekaLott
44 consecutive years without a river fire.
The burning-river jokes will never go away, but to see the biological and recreational rebirth of the Crooked River since 1969, it really is an environmental success story. We know the lake and river face challenges in the years ahead, but we're meeting them and work to protect them has already begun. (PS: The photo above isn't even from 1969. It was from 1951, one of several fires that burned on the river pre-1969.) Photo: CSU Digital Humanities
Weather: Variety!
I heard this great joke the other day. "Hey, don't like the weather in Cleveland?… Wait five minutes. It'll change!" I mean it's so true, right?! Photo: Mark Johnson, newsnet5.com
These three Northeast Ohio add-ons happen to be close to our heart as a clean-water agency who has served this great region since 1972, but what others would you add to the list?