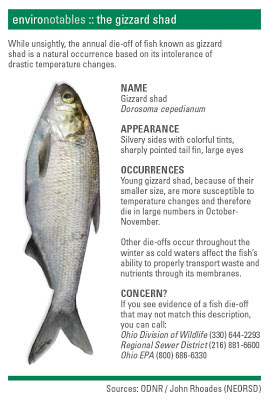 NEWS: Don't be shad. Fish die-off is common, natural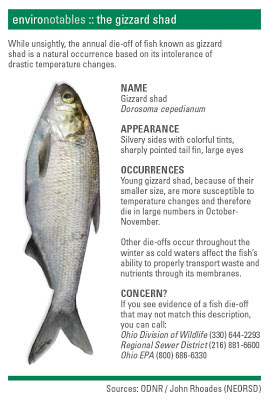 In recent weeks, hikers along Metroparks streams or winter-stroll beachgoers may have seen a surge of dead fish washed up on the shore.
Is the die-off of these silvery blue-green fish a sign of environmental turmoil, or a natural occurrence? It's the latter, and it happens regularly.
Shad can't stand the change: Known as the eastern gizzard shad, this fish species (Dorosoma cepedianum) is not native to Lake Erie or its tributaries, and is very sensitive to rapid temperature changes. Lake Erie's and streams' water temperature—because of shallow depth and northerly locations—can change very quickly in early and late winter months, causing die-offs of significant numbers of gizzard shad.
"It can be unsightly, but it's important to note that in most cases the die-offs are natural," said John Rhoades, Northeast Ohio Regional Sewer District Supervisor of Environmental Assessment.
Colder temperatures slow the shad's body's ability to draw nutrients from surrounding water, which commonly leads to starvation during colder months as well, causing further die-offs in December, January and February.

The Northeast Ohio Regional Sewer District often receives calls at the beginning and end of the winter season from concerned citizens believing some form of chemical spill may have caused the massive fish mortality. A recent YouTube video even accused the Sewer District of killing the fish with of polluted effluent. This was not the case, and shore-bound citizens should anticipate similar occurrences this time of year.
Who to contact: If you see large numbers of dead fish on Lake Erie's shore or stream banks shore during the fall and winter, these may be gizzard shad die-offs. If you are uncertain, or concerned there may be other environmental factors involved, please contact the Ohio Department of Natural Resources, Division of Wildlife (330) 644-2293, the Regional Sewer District's Water Quality & Industrial Surveillance Department (216) 641-6000, or the Ohio Environmental Protection Agency (800) 686-6330.